Rick Bayless' Spicy Jicama, Cucumber and Fruit Skewers
A Slightly Dressy Version of a Popular Street Food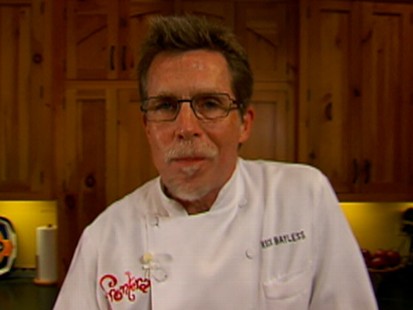 Catching up with chef Rick Bayless, master of Mexican cuisine.
From the kitchen of Rick Bayless
|
Here's a slightly dressy way to serve that beloved street food snack of fruit or jicama or cucumber (or, in this preparation, all of them) jazzed up with lime, chile and salt -- the seasoning pillars of Mexican street food.
While I always want to include the fresh crunch of jicama on these skewers, the other elements are easily substituted. Try cantaloupe (or other melon), orange segments, peaches, raw quince or apple or pear. And, while pure powdered guajillo chile gives a distinctively Mexican character with its wonderfully rich flavor and bright (but not overpowering) heat, there are other options: Guajillo can be replaced by powdered ancho chile, New Mexico or California chile, or paprika with a little super-spicy cayenne, arbol or chipotle chile powder mixed in.
Cutting the fruits and vegetables in circles creates a very beautiful presentation -- and a fair amount of waste. Feel free to choose any shape you like. But, make sure to peel the jicama with a knife, not a vegetable peeler, so that you can go deeply enough to remove all the fibrous exterior.
The skewers can be put together a day ahead; cover and refrigerate. Sprinkle with the spicy salt when you're ready to serve.
Ingredients
1 small (about 3/4 pound) jícama, peeled and cut into 3/4-inch slices
1 English (long, thin-skin, hot-house) cucumber, cut into 3/4-inch slices
1/2 small pineapple, peeled and cut into 3/4-inch slices
2 large (about 2 pounds total) mangos, peeled, flesh cut from the pit in large slices
8 bamboo skewers
1 lime, cut into 8 wedges
2 tablespoons powdered guajillo chile
2 teaspoons fine-ground table salt
Cooking Directions
Using a 1-inch round cutter, cut circles out of the jicama, cucumber, pineapple and mango slices. Thread the circles on the skewers and arrange them on a serving platter. Surround the skewers with lime wedges.
In a small shaker (a salt shaker works fine here), thoroughly mix together the powdered chile and salt. Secure the top and lightly sprinkle the skewers. Serve the remaining chile-salt mixture on the side, for guests to add al gusto.
*Recipe courtesy of Ricky Bayless from "Fiesta at Rick's: Fabulous Food for Great Times with Friends"; W.W. Norton & Company, Inc.; 2010
Other Recipes That You Might Like