Rick Bayless' Roasted New Potato Salad With Poblano Mayo
A Mexican Take on a Familiar Side Dish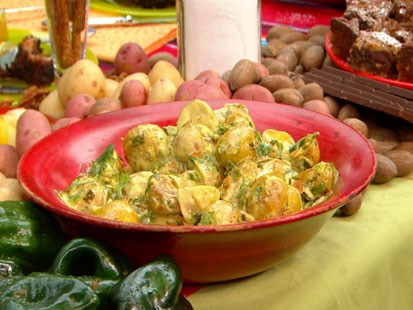 From the kitchen of Rick Bayless
|
I know that potato salad sounds a little familiar and not at all Mexican, but this preparation proves both those assumptions wrong. Crusty roasted new potatoes, with their creamy centers, take potato salad to new heights when combined with garlicky homemade roasted poblano mayo, wilted green onions and fresh cilantro.
Add crumbled bacon, diced ham or flaked, hot-smoked salmon to the mix and you have a more substantial, party-ready small dish. As is, it can add the perfect balance to your small-dish party offerings; it's just right for picnics, too.
Though you could roast the vegetables a day or two ahead, then cool, cover and refrigerate them, I wouldn't really recommend it. The texture of freshly roasted potatoes that have never been refrigerated is beyond compare. However, the roasted poblano mayo can be made several days ahead without suffering.
Since your finished salad needs to be refrigerated if not served within two hours (it contains homemade mayonnaise) -- and refrigeration will change the potatoes' texture -- I recommend combining all the ingredients shortly before serving.
Ingredients
1 1/2 pounds small new potatoes
A little vegetable oil or olive oil for coating the vegetables
Salt and black pepper, preferably fresh ground
2 large poblano chiles
4 garlic cloves, peeled
4 green onions, roots and wilted outer leaves removed, cut cross-wise into 1/2-inch pieces
1 egg yolk
1/4 cup olive oil (one that's not too strong is good here)
About 1/4 cup (loosely packed) chopped fresh cilantro (thick bottom stems cut off) or 1/4 cup chopped fresh flat-leaf parsley
Cooking Directions
Roast the vegetables. Heat the oven to 375 degrees. If the potatoes are bite size, keep them whole; if not, cut into halves or quarters. Put them into a bowl, drizzle with a little oil, sprinkle with salt and pepper, and toss to coat. Scoop onto one side of a rimmed baking sheet. Roast 10 minutes. Put the poblanos and garlic in the bowl, toss with a little oil to coat and scoop onto the other side of the baking sheet. Toss the green onions with a little oil and scatter over the potatoes. Return to the oven and roast until the potatoes are tender, the poblanos are evenly blistered and the garlic is soft, about 20 minutes. Cool.
Make the mayonnaise. Peel the blistered skin off the poblano, pull out the stem and seed pod, then quickly rinse to remove any stray seeds. Chop into small pieces and scoop half into a blender jar, along with the roasted garlic. (Set the rest of the chile aside.) Add the egg yolk, vinegar and 1/2 teaspoon salt. Blend until smooth. With the blender running, pour in the olive oil in a thin stream, creating a luxurious mayonnaise.
Finish the salad. Scoop the roasted potatoes and green onion into a medium bowl, along with the reserved chile. Sprinkle on the cilantro or parsley. Add a generous 1/2 cup of the mayonnaise (cover and refrigerate the remainder for spreading on sandwiches or making incredible salmon salad) and stir to combine. Taste and season with more salt if you think necessary. Scoop into a serving bowl and the salad's ready. Cover and refrigerate if not serving right away.
*Recipe courtesy of Ricky Bayless from "Fiesta at Rick's: Fabulous Food for Great Times with Friends"; W.W. Norton & Company, Inc.; 2010
Other Recipes That You Might Like