Marcus Samuelsson's Spiced Chocolate Turnovers with Mango Sauce
Time for Dessert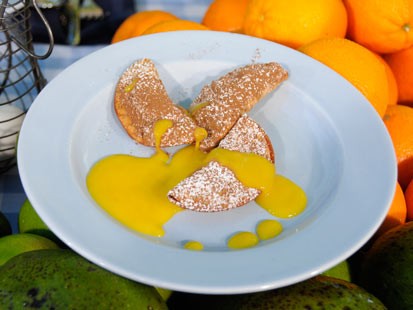 From the kitchen of Marcus Samuelsson
|
Ingredients
1 kaffir lime leaf
1/2 teaspoon ground cinnamon
1/2 teaspoon ground cardamom
1/2 teaspoon chili powder
2 tablespoons heavy cream
1/2 cup orange juice
1/2 cup coconut milk
2 tablespoons light brown sugar
Zest from 2 limes
1/4 teaspoon salt
9 ounces bittersweet chocolate, chopped
2 tablespoons lime juice
1 tablespoon Grand Marnier
2 eggs
2 egg yolks
2 tablespoons unsalted butter
30 spring roll wrappers
1 tablespoon confectioner's sugar
1 tablespoon cocoa powder
Mango Sauce
1/2 tablespoon unsalted butter
1 soft ripe mango, peeled, pitted and cut into 1-inch cubes
1/4 cup granulated sugar
1 1-1/2-inch piece of ginger, peeled
1 cardamom pod
1/2 cinnamon stick
1/2 cup fresh orange juice
1/4 cup dry white wine
Juice of 2 limes
Salt
Cooking Directions
Preheat oven to 375 degrees.
Heat a medium saucepan over low heat. Add the kaffir lime leaf, cinnamon, cardamom and chili powder and toast until fragrant, about 5 minutes. Increase heat to medium-high and add the cream, orange juice, coconut milk, sugar, lime zest and salt and bring to a boil. Cook for 5 minutes, then reduce heat to low. Add the chocolate, lime juice, Grand Marnier, 1 of the eggs, the egg yolks and butter and stir until the chocolate and butter are melted.
Transfer to a food processor and puree until smooth. Transfer to a bowl, cover with plastic wrap and put in the freezer until mixture is well chilled and set, but not frozen, about 45 minutes to 1 hour.
Whisk the remaining egg with 1 tablespoon of water. Working in batches so that the wrappers do not dry out, lay the spring roll wrappers out on a flat surface and brush the edge of the wrapper with the egg wash. Place 1/2 tablespoon of the filling in the center of each wrapper, and fold the dough over the filling to form a half-moon. Press the edges together to seal. (If desired, freeze until ready to use). Place empanadas on baking sheet.
Bake empanadas for 15-20 minutes, until they get golden brown.
Combine the confectioner's sugar and cocoa powder and dust over the turnovers.
Serve with Mango Sauce.
Tip: To make the turnovers in advance, assemble and place them on a parchment-lined tray wrapped in plastic and freeze until ready to bake.
Makes 30 turnovers
Mango Sauce
Melt the butter in a large sauté pan over medium heat. Add the mango, sugar, ginger, cardamom and cinnamon stick and sauté until the mango begins to soften, about 5 minutes. Pour in the orange juice and white wine and bring to a simmer, then reduce the heat to low and simmer until mango is tender, about 10 minutes. Remove from the heat and let cool.
Remove the ginger, cardamom pods and cinnamon stick and transfer the mixture to a blender. Puree until smooth. Add the lime juice and a pinch of salt and mix to combine.
Makes two cups
Other Recipes That You Might Like