Cookie Dough Apple-Peach Crisp
Delicious Intensity That Can Be Unexpected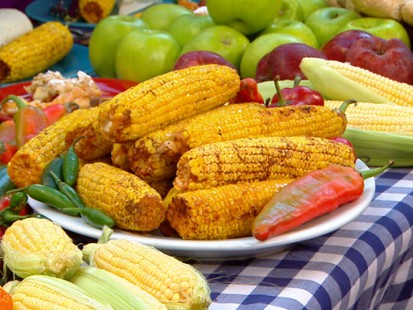 "High Flavor, Low Labor" author J.M. Hirsch's fast, easy meals to feed a crowd.
From the kitchen of J.M. Hirsch
|
Nobody expects this sort of delicious intensity from an apple crisp. It gets its punch from a serious (but not overwhelming) helping of candied ginger, as well as a generous dose of sweet and tart dried cherries.
And the topping, made by combining crumbled purchased sugar cookie dough and oats, is simply the most comforting crisp topping you'll ever encounter.
Ingredients
2 tablespoons butter, melted and cooled
1/4 cup packed light brown sugar
1/2 cup diced crystallized ginger
1 teaspoon lemon juice
1/2 teaspoon cinnamon
1/4 teaspoon ground cardamom
1/4 teaspoon ground allspice
Pinch ground nutmeg
Pinch salt
2 tablespoons cornstarch
5 medium apples, peeled, cored, and chopped into bite-size chunks
Two 10-ounce bags frozen peaches, thawed
1 cup dried cherries
14-ounce package prepared sugar cookie dough, broken into chunks
1 cup rolled oats
Cooking Directions
Heat the oven to 375°F. Coat a 9-inch square casserole or baking pan with cooking spray.
In a large bowl, mix the butter, brown sugar, ginger, lemon juice, cinnamon, cardamom, allspice, nutmeg, salt, and cornstarch. Add the apples, peaches, and cherries, then toss to coat.
Transfer the fruit, using a rubber spatula to scrape the sides of the bowl, to the prepared pan. Set aside.
In a food processor, combine the cookie dough and oats. Pulse several times, or until the mixture resembles coarse, wet sand. Sprinkle the mixture over the fruit.
Bake for 20 to 25 minutes, or until the topping is lightly browned and the fruit bubbles. Cool slightly before serving.
Other Recipes That You Might Like