Whole Wheat Margherita Pizza
Chef Art Smith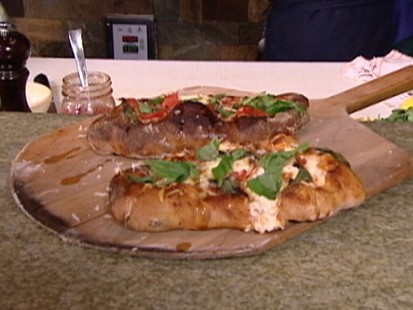 Celebrated chef Art Smith spreads fresh, simple ingredients.
From the kitchen of Art Smith
|
Ingredients
To Make 3 10-Inch Pizzas:
1 package active dry yeast?
1 1/2 cups King Arthur White Whole Wheat Flour?
1 1/2 cups King Arthur Unbleached All Purpose Flour?
1 T. Agave nectar?
1 t. sea salt?
1 T. Extra Virgin Olive Oil?
1 1/4 cup warm water, approximately 110 degrees
additional flour for kneading
To Create Toppings:
1 28-ounce can San Marzano Tomatoes, drained, seeded and torn into big pieces
1 ball Buffalo or Cow Mozzarella, thinly sliced??
1 bunch fresh basil, torn??
1 small block Parmesan cheese
Extra Virgin Olive Oil
Optional Toppings:
Roasted vegetables,
Roasted mushrooms
Chopped arugula
Cooking Directions
Pour warm water in food processor, sprinkle yeast, and agave, allow to activate for 10 minutes until bubbly.
Add to the processor the flours, salt, olive oil, and pulse until the dough comes together into a sticky ball.
Remove the dough from the processor and sprinkle some additional flour on the dough and knead into a soft dough.
Place the ball of kneaded dough into a large mixing bowl and cover with a clean kitchen towel.
Allow to double in bulk for approximately 1 hour. After dough has doubled in bulk, divide into 3 balls, each of which will make a 10-inch pie.
Put one ball of dough on top of a piece of parchment paper and flatten the ball with your hands and gently stretch to form a 10-inch circle.
Preheat oven to 500 degrees. If using a pizza stone, preheat the stone for one hour at 500 degrees. If you're not using a stone, you can transform a regular rectangular cookie sheet into a great pizza pan by turning it over.
Shape pizza on parchment paper, sprinkle on tomato pieces, torn basil, and thinly sliced and torn pieces of mozzarella, sprinkle with sea salt and fresh ground pepper.
Place pizza on stone or cookie sheet and bake for 2-3 minutes just until the dough is firm, then pull parchment from under the pizza, and bake for 8-10 more minutes until the top is bubbly and the crust is golden.
Other Recipes That You Might Like