Mustard and Coriander–Crusted Salmon with Watercress
Low-Cal, High Protein, Great Taste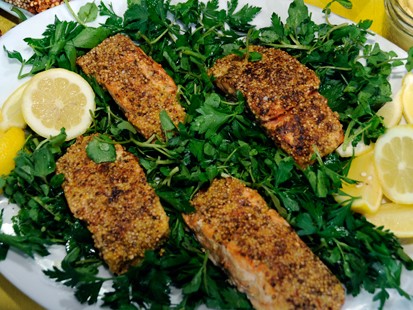 From the kitchen of Dr. Nicholas Perricone
|
Salmon has tremendous health benefits. It's high in protein and omega-3 essential fatty acids, which studies have proven to have heart-healthy benefits. According to the Mayo Clinic, omega-3 fatty acids also are believed to improve learning ability in children, lower blood pressure, reduce blood clotting, enhance immune function and improve arthritis symptoms.
Ingredients
1 tablespoon coriander seeds
1 teaspoon mustard seeds
Pinch of crushed red pepper flakes
11/4 pounds skinless wild salmon fillet, in 1 piece
Salt and freshly ground black pepper
1 tablespoon plus 1/2 teaspoon Dijon mustard
1 tablespoon plus 1 teaspoon extra-virgin olive oil
1 tablespoon fresh lemon juice
2 bunches or bags B&W watercress (8 ounces), thick stems discarded
1 cup tightly packed fresh flat-leaf parsley leaves
Cooking Directions
1. Preheat the oven to 425°F.
2. Combine the coriander seeds, mustard seeds, and crushed red pepper flakes in a spice grinder, and coarsely grind.
3. Season the salmon fillet with salt and black pepper, and spread the 1 tablespoon mustard evenly over the fillet. Press the ground spices into the mustard.
4. Heat the 1 teaspoon oil in a large nonstick ovenproof skillet over high heat. Add the salmon fillet, mustard side down, and cook until lightly browned, 2 to 3 minutes. Carefully turn the salmon over, and transfer the skillet to the oven. Roast the salmon for 6 minutes, or until cooked through. Transfer the fillet to a cutting board.
5. Meanwhile, in a medium bowl, whisk the lemon juice with the remaining 1 tablespoon olive oil and 1/2 teaspoon mustard. Add the watercress and parsley, season with salt and black pepper, and toss to coat. Cut the salmon fillet into 4 pieces and serve with the salad.
Other Recipes That You Might Like