Home
>
GMA
>
Recipes Home
>
Outback Steakhouse's Victoria's Crowned Filet with Horseradish Crumb Crust
Outback Steakhouse's Victoria's Crowned Filet with Horseradish Crumb Crust
A Top Secret Recipe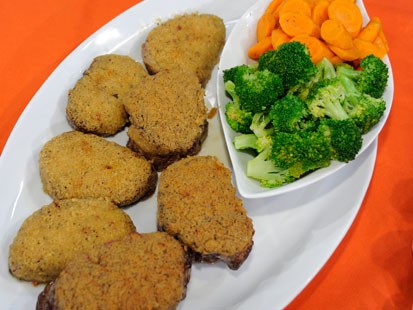 From the kitchen of Todd Wilbur
|
Tonight, don't settle for steaks that are served straight off the grill. Instead, blow everyone away when you serve up grilled beef tenderloin filets that have been "crowned" with buttery horseradish bread crumbs. This presentation looks and tastes great, but the best part is that it's so freakin' easy! The crust is actually prepared ahead of time by combining the ingredients and forming the mixture into crust "wafers" that are chilled until firm. Then, when the steaks come off the grill, you top each one with a crust and broil until bubbling. Now, sit back and watch as your feeders flip when they take one bite. That's right, tonight you rule!
Ingredients
1/4 cup salted butter, softened
3 tablespoons plain bread crumbs (such as Progresso brand)
1 tablespoon white prepared horseradish
1/4 teaspoon coarse grind black
pepper
1/8 teaspoon crushed red pepper flakes
Pinch salt
Pinch dried thyme
Four 8-ounce beef tenderloin filets
Cooking Directions
Prepare the crumb crust by combining all the ingredients in a medium bowl. Stir well.
Divide the mixture into 4 equal portions and form it into slightly oval-shaped disks that are approximately 2 1/2 x 3
inches across on wax paper. Chill these crumb disks in your refrigerator until firm.
When you are ready to prepare the filets, preheat your grill to high heat. Also preheat your oven broiler.
Season the filets (see Tidbits below) and cook them on the preheated grill until just shy of your desired doneness. Arrange the filets on a baking sheet, and top each one with a disk of crumb crust. Pop these filets under the broiler until the crust is bubbling but not brown, and serve.
Tidbits: To season the filets you can use salt and pepper or your favorite
steak seasoning. If you want a taste that's closer to the steaks
served at Outback, use our top secret steak rub! It's a blend of spices that duplicates the flavor of the
stuff used at the chain.
Other Recipes That You Might Like