Cinnamon Raisin Rice Pudding
Recipe Courtesy Ellie Krieger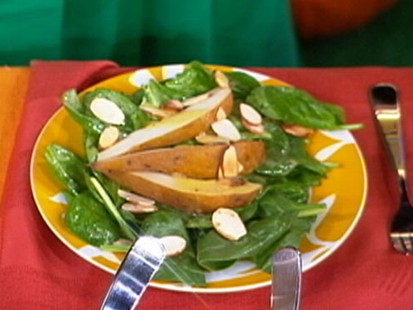 Healthy foods that could help ease rheumatoid arthritis pain.
From the kitchen of Ellie Krieger
|
For more information and recipes for people living with rheumatoid arthritis, visit NewWayRA.com
Ingredients
1 cup long-grain white rice
4 cups 1 percent low-fat milk
One 12-ounce can low-fat evaporated milk
1/2 cup honey
1/2 cup raisins
1 stick of cinnamon
2 teaspoons vanilla extract
Ground cinnamon for garnish
Cooking Directions
Combine the rice and 2 cups of water in a large saucepan.
Bring it to a boil, then reduce the heat to low and simmer, uncovered, until most of the water is absorbed but the rice is still a little wet, about 8-10 minutes.
Add 3 cups of the milk, the evaporated milk, honey, raisins and cinnamon and bring to a simmer.
Reduce heat to low and cook, uncovered, stirring occasionally, until the rice is very soft and most of the liquid is absorbed, but the mixture is still quite wet, 20-25 minutes.
Remove the cinnamon stick and stir in the remaining 1 cup of milk and the vanilla.
Transfer to a container and eat warm or chill completely, for 4-6 hours.
Mixture will thicken as it cools. Stir well before serving, garnished with a sprinkling of ground cinnamon.
Other Recipes That You Might Like