Swamp Thing Chili with Dead Fingers
Recipe Courtesy Diane Henderiks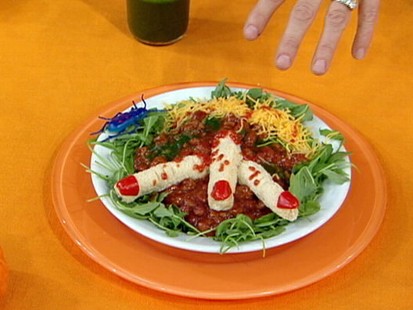 New ideas for fun Halloween meals for the family.
From the kitchen of Diane Henderiks
|
Ingredients
For the Chili:
1/2C olive oil
1/4 C minced garlic
1 1/2C diced yellow onion
2 jalapeño peppers, seeded and minced
1T freshly ground black pepper
1T cumin
2T oregano
1T DITK™ FIERY SPICE or your favorite hot spice blend
1/4C chili powder
1lb. ground turkey
1C tomato paste
1C diced red bell pepper
1C diced celery
3C cooked kidney beans
1/4C balsamic vinegar
1/2C natural peanut butter
1/4C cocoa powder
3 C canned diced or chopped peeled tomatoes with liquid
1/2C low sodium chicken broth
1C fresh cilantro, chopped
Salt and freshly ground pepper to taste
2C baby arugula or spinach
For the "Fingers":
4 slices of whole wheat or white wheat bread
3 teaspoons butter; softened to room temperature
2 grape tomatoes
Cooking Directions
For the Chili:
Heat oil in a large stock pot over high heat.
Add garlic, onion, jalapeño and all dried seasonings. Sauté until onions are translucent.
Add ground turkey and cook for about 5 minutes; breaking up with spoon while cooking.
Add tomato paste and mix it evenly through the onion mixture.
Add the peppers and celery. Cook for about 5 minutes.
Add next 5 ingredients (celery through tomatoes) and bring mixture to a boil.
Reduce the heat and let simmer for about 30 minutes. Stirring occasionally adding chicken broth as needed for desired consistency.
Stir in the cilantro and season with salt and pepper to taste.
Place 1 cup of arugula on bottom of bowl filling up the sides.
Top with 1 1/2 cups of chili
Place 2 DEAD FINGERS, fingernail side up, in chili
Enjoy!
For the "Fingers":
Stack slices of bread and cut off crusts
Spread 1/2 teaspoon of butter on each slice of bread
Roll bread into a log shape and squeeze gently into finger form leaving seam side down
To form the nails: Cut 1/2 inch off of top of grape tomato and slice in half. Gently scoop out center.
Dot inside of "nail" with butter and press on top of finger to simulate a fingernail. Repeat for other 3 nails.
Gently make lines with knife to create look of finger.
Enjoy!
Other Recipes That You Might Like