Eyeball Meatballs
Recipe Courtesy Diane Henderiks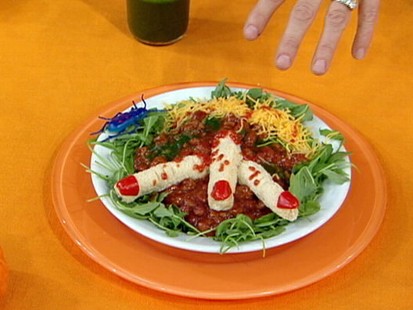 New ideas for fun Halloween meals for the family.
From the kitchen of Diane Henderiks
|
Ingredients
4 meatballs
4 small mozzarella cheese balls
2 grape tomatoes
2 black olives
1 tablespoon finely chopped fresh parsley or other green leafy herb or veggie
1 teaspoon olive oil
Cooking Directions
With small melon baller, scoop out a one-half inch circle of the meatball.
With paring knife or mini melon baller scoop out a tiny circle in the mozzarella ball.
Cut 1/4 inch top off of the grape tomatos and black olives
Fit the mozzarella ball into the hole in the meatball.
Fit the top of the tomatos into 2 meatballs and repeat with olive tops.
Combine parsley with oil and gently place small pieces on the white part of the "eyeball"
Place over pasta.
Enjoy!
Other Recipes That You Might Like