Home
>
GMA
>
Recipes Home
>
Chicken Fans with Tarragon-Cream Sauce and Rice Pilaf With Asparagus
Chicken Fans with Tarragon-Cream Sauce and Rice Pilaf With Asparagus
A Complete Dinner Is Served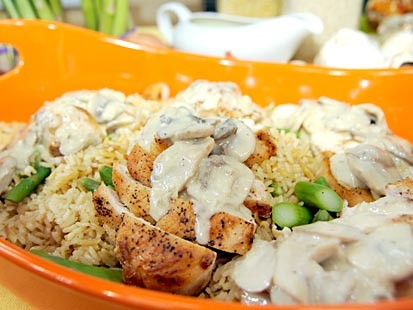 From the kitchen of Rachael Ray
|
Ingredients
4 tablespoons (1/2 stick) butter
1/4 cup orzo pasta or broken thin spaghetti
1 cup white rice
2 3/4 cups chicken stock
1 small bundle of fresh asparagus, trimmed and cut into 1-inch pieces on an angle
2 tablespoons EVOO (extra-virgin olive oil)
4 pieces of boneless, skinless chicken breast
Salt and pepper
2 large shallots, chopped
8 medium large white mushrooms, thinly sliced
2 tablespoons all-purpose flour
1/3 to 1/2 cup cream (eyeball it)
2 tablespoons Dijon mustard or grainy mustard
4 stems of fresh tarragon, leaves removed and chopped
Cooking Directions
Heat a sauce pot with a tight-fitting lid over medium heat with 2 tablespoons of the butter. Add the orzo to the pot and sauté to golden brown. Add the rice and stir to combine. Add 1 3/4 cups of the stock and bring to a boil, then reduce the heat to a simmer, cover the pot, and cook for 18 minutes, or until the pasta and rice are tender. Add the asparagus to the pot for the last 5 to 6 minutes of cooking time, stirring it in and replacing the lid. When the rice is done, fluff with a fork.
While the rice cooks, heat the EVOO in a skillet over medium-high heat. Season the chicken with salt and pepper and cook for 12 minutes, turning once. Place the meat on a platter and cover with foil to keep warm.
Add the remaining 2 tablespoons of butter to the pan and reduce the heat to medium. Add the shallots and mushrooms to the skillet and sauté for 6 to 7 minutes, until the mushrooms are very tender, then season with a little salt and pepper.
Sprinkle the flour over the pan and stir for 1 minute then whisk in the remaining cup of stock. When the stock comes to a bubble, stir in the cream, mustard, and tarragon and reduce the heat to low.
Thinly slice each chicken breast on an angle. Place some pilaf on each plate and fan the chicken out over the edge of the pilaf. Ladle the cream sauce over the chicken fans and serve.
Styled by Karen Pickus
*Recipe courtesy of Rachael Ray from her book Rachael Ray's Look + Cook; Clarkson Potter Publishers, 2010.
Other Recipes That You Might Like