5 Autumn Vegetables With Goat Ricotta and Pumpkinseed Oil
The Perfect Fall Side Dish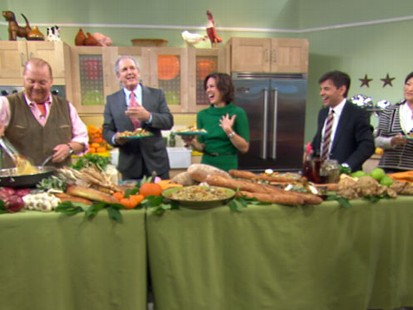 Mario Batali has tips to spice up your family's big feast this holiday.
From the kitchen of Mario Batali
|
This warm and savory dish is the perfect compliment to the cool fall weather. The combination of squash, sage oil and fresh goat cheese is sure to make it a family favorite.
Ingredients
½ pound butternut squash, peeled and cut into ½-inch cubes
4 fresh sage leaves, finely chopped
½ cup extra-virgin olive oil
¼ cup Jerusalem artichokes, scrubbed and sliced into 1/8-inch disks
2 parsnips, scrubbed and sliced into ¼-inch disks
1 teaspoon ground cumin
1 leek, white part only, cut into 3-inch julienne
½ celery root, peeled and cut into julienne
¼ pound mizuna, watercress, or frisee
2 tablespoons sherry vinegar
Kosher salt and freshly ground black pepper, to taste
4 1-inch baguette slices, toasted for 2 minutes in 400F oven.
¼ pound fresh goat cheese
¼ cup sage oil (see recipe)
2 tablespoons pumpkinseed oil (available at specialty stores)
Cooking Directions
Preheat the oven to 475F
Place the butternut cubes and chopped sage on a cookie sheet, drizzle with 1 tablespoon olive oil, and roast until light golden brown, 8 to 10 minutes. Set aside in a large salad bowl to cool.
Place the Jerusalem artichokes on the same cookie sheet and toss with 1 tablespoon of the olive oil. Roast in the oven for 6 to 7 minutes. Remove and set aside with the squash.
Place the parsnips on the cookie sheet and toss with the cumin and 1 more tablespoon of olive oil. Roast for 6 to 7 minutes, then set aside with other the vegetables.
Bring 6 cups of water to b oil and set up an ice bath near the stove. Plunge the leeks into the boiling water and cook until tender, 2 to 3 minutes. Remove the leeks from the boiling water and submerge them in the ice bath until cool. Remove the leeks from the ice bath, pat dry with paper towels, and set aside.
Add the leeks, celery root, and mizuna to the salad bowl. Add the remaining olive oil, the sherry vinegar, salt and pepper and toss gently to coat well.
Divide the mixture evenly among four chilled dinner plates, mounding it like a haystack. Smear teach baguette slice generously with fresh goat cheese and place on top of each "haystack." Drizzle the sage and pumpkinseed oils around each mound. Serve immediately.
Other Recipes That You Might Like