Sara Moulton's Make-Ahead Pan Gravy
A Stress-Free Way to Make Gravy for Thanksgiving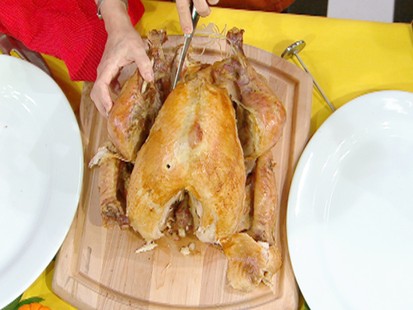 Sara Moulton shows 'GMA's' anchors the proper way to cut a Thanksgiving turkey.
From the kitchen of Sara Moulton
|
With so many other dishes to get on the table, sometimes the turkey gravy can be a mealtime anxiety-inducer. Fear not! This is my "make-ahead" version. And guess what? It turns out just as good as the last-minute stuff. I recommend making 1/2 cup gravy per person, since it is Thanksgiving after all.
Ingredients
6 tablespoons butter
6 level tablespoons flour (preferably the instant kind, Wondra, which Granny favored because it didn't cause lumps in the gravy)
4 cups turkey or chicken broth
3/4 cup dry white wine
Cooking Directions
Melt 6 tablespoons of butter in a large skillet over low heat. Once butter is melted, whisk in the flour. Cook, whisking for 5 minutes.
Add the broth in a steady stream, while whisking. Turn up the heat to moderately high, bringing the mixture to a boil and simmer, whisking for 5 minutes. This will be the base for your gravy. Cool and refrigerate until turkey is almost done roasting.
Once Turkey is Roasted:
After you have taken your turkey out of the oven, transfer it to a platter and cover it loosely with foil. While it is resting, transfer whatever liquid is in the roasting pan to a glass measuring cup or a fat-separator, and let it settle. The fat will float to the top. Skim off fat and reserve it for the next time you wish to make gravy or discard. What should remain are the delicious drippings and juices from the turkey. (Note: if using a fat-separator, the turkey juices will come out first, the fat last).
Place roasting pan on stove over medium-high heat and pour in 3/4 cup of dry white wine to deglaze. With a wooden spoon, scrape up brown bits that have accumulated on bottom of pan. Let wine reduce a bit, and then add gravy base, along with the reserved turkey liquid.
Stir and simmer gravy until desired thickness is reached and ready to serve.
Other Recipes That You Might Like