Diane Henderiks' Deviled Eggs With Goat Cheese & Dill
Recipe Courtesy Diane Henderiks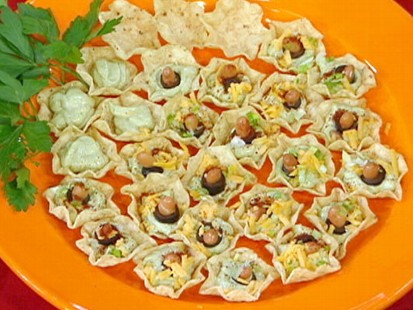 Portion controlled starter recipes for your holiday parties.
From the kitchen of Diane Henderiks
|
Ingredients
1 dozen hard boiled eggs
2 tablespoons mayonnaise
3 tablespoons reduced fat sour cream
1/4 cup goat cheese
1 tablespoon dried dill weed
Pinch of salt and pepper
Paprika
Cooking Directions
Peel hard boiled eggs and slice in half lengthwise.
Gently remove yolk from each egg half and place in medium mixing bowl.
Place egg white halves on serving platter.
Make the filling. Place all ingredients for filling in food processor and process until smooth.
Place filling in zip top bag and cut corner from bottom of bag.
Pipe filling into each egg white half.
Sprinkle with paprika.
Other Recipes That You Might Like