Ron's Turkey Chili a la Claiborne
Recipe Courtesy Ron Claiborne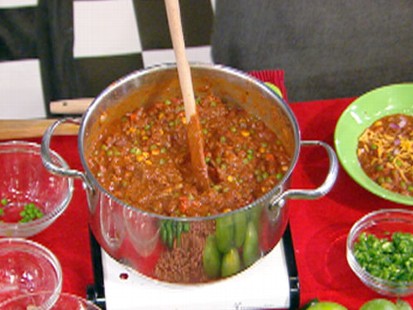 Ron Claiborne shares one of his favorite holiday recipes.
From the kitchen of Ron Claiborne
|
Are you looking for a filling winter meal? This hearty chili is just the right blend of spice, vegetables and turkey, and its sure to leave your family satisfied.
Ingredients
2 to 2 1/2 lbs ground turkey
2 boxes of chili seasoning (Wick Fowler's "2 Alarm Chili Kit" or Carroll Shelby's "Chili Kit")
2 (15.5oz) cans kidney beans, rinsed
1 (15.5oz) can white navy beans, rinsed
1 cup water, more or less
2 (14.5oz) cans stewed tomatoes
1 (8oz) can tomato paste
1 yellow onion, diced
3 bell peppers, diced
3 large carrots, diced
1 box frozen corn
1 box frozen baby peas
1 heaping tablespoon unsweetened cocoa powder
1 tablespoon olive oil
1/2 bottle of beer (optional)
Chopped Jalapenos or hot chili peppers to taste
Cooking Directions
In a large stewpot, soften the onions and bell peppers in olive oil over medium heat. In a separate skillet, cook the ground turkey. Once the turkey is browned (and no pink remains), drain the liquid and add the turkey to the stewpot. Add in the stewed tomatoes, the tomato paste, a cup of water, and the contents of the 2 boxes of chili seasonings (leave out some of the salt if you prefer - I only use 1 of the 2 salt packets). Add in the beer and cocoa, the carrots, corn, peas and beans. Bring to a boil, then lower heat and simmer for an hour+ over low heat. Add in jalapenos and spicy chili peppers to taste.
Serve with shredded cheese, diced purple onion, sour cream and tortilla chips.
This recipe was styled by chef Karen Pickus for Good Morning America.
Recipe Summary
Main Ingredients: ground turkey, chili, kidney beans, navy beans, stewed tomatoes, onion, pepper, carrot, corn, peas, cocoa powder, olive oil, beer, jalapeno pepper
Course: Party Platter, Snack, Dinner, Soup
Other Recipes That You Might Like