From the Family Kitchen of Juju Chang: New Year's Rice Cake Soup
Check Out Juju's Family Recipe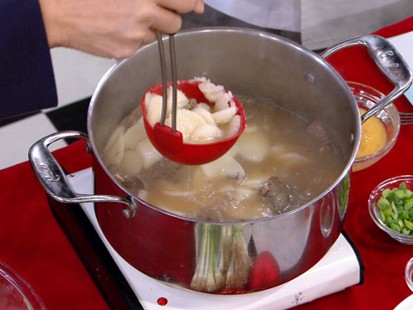 Emeril Lagasse enters Juju's kitchen for a traditional Korean dish, Duk Guk.
From the kitchen of Juju Chang
|
Take a break this busy holiday season with Juju's hearty soup. Her homemade favorite can even be a full meal with the rice cakes and flank steak.
Ingredients
3 cups sliced rice cake (you can find it here)
3 eggs
1 to 1 ½ cups sliced flank steak (sliced into bite size pieces)
1 to 2 cloves of garlic, minced
1 teaspoon sesame seed oil
½ teaspoon soup base soy sauce (this is lighter than regular soy sauce and you can find it here)
6 cups of water
½ teaspoon salt
¼ teaspoon pepper
1 thinly sliced green onion, plus more for garnish
Toasted white sesame seeds, for garnish
Cooking Directions
Soak 3 cups of sliced rice cake in a bowl of cold water. In a small bowl, mix 2 egg whites and 1 egg yolk with a pinch of salt and set aside. Soak for one hour.
In a small mixing bowl, combine sesame seed oil, soup base soy sauce, garlic, salt and pepper. Add sliced flank steak and mix together until all meat is coated.
In a large pot over medium heat, brown the seasoned meat, about 3 to 5 minutes. Add 6 cups of water to the browned meat and bring to a boil over high heat. Once liquid reaches a boil, reduce heat to medium and simmer rapidly for 5 minutes.
Drain the soaking rice cake slices and add them to the boiling liquid. The rice cake slices will float to the surface when ready.
Drizzle in the egg mixture, a little at a time. Stir the egg after a few minutes, to create ribbons. Make sure to give it a chance to cook before you stir. Decrease the heat to low, add sliced green onion to the pot. Turn off heat. Season with salt and pepper to taste and garnish with additional onion and sesame seeds, if desired.
This recipe was styled by chef Karen Pickus for Good Morning America.
Other Recipes That You Might Like