Craig Strong's Asian Pulled Pork Sandwich: Sweet and Sour Slider
A Tangy Twist on a Classic Favorite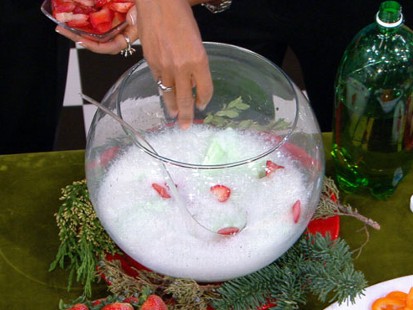 "GMA's" Robin Roberts whips up a family favorite.
From the kitchen of Craig Strong
|
If you're looking for a crowd pleaser for your next dinner party check out this delicious slider.
Ingredients
For the Pork
2 pounds pork shoulder
2 tablespoons vegetable oil
1 cup pineapple juice
¼ cup rice vinegar
1 tablespoon chopped ginger
1 tablespoon chopped garlic
1 cinnamon stick
2 tablespoons soy sauce
1 tablespoon brown sugar
salt and pepper to taste
For the Slaw
2 cups julienned Napa
cabbage
¼ cup julienned carrot
¼ cup julienned red onion
½ teaspoon rice wine vinegar
¼ cup red bell pepper
1 tablespoon vegetable oil
2 dashes Tabasco
salt and pepper to taste
1 tablespoon chopped
cilantro
For the Bread
8 Hawaiian rolls, cut in half
and toasted
Cooking Directions
Season pork shoulder with salt and pepper. In a medium saucepan add oil, place on medium-high heat, and brown pork shoulder on all sides. Add all other ingredients of the pork mixture. Cover and bake in pre-heated 300 degree oven for 3 hours. Remove pork from liquid. Allow to cool enough to handle and pull into shreds. Simmer liquid and reduce by 50%. Strain liquid and mix ½ cup with pork.
In separate bowl, mix all slaw ingredients.
Layer pork and slaw between cut Hawaiian rolls
This recipe was styled by chef Karen Pickus for Good Morning America.
Recipe Summary
Main Ingredients: pork shoulder, vegetable oil, pineapple juice, rice vinegar, ginger, garlic, soy sauce, brown sugar, napa cabbage, carrot, red onion, bell pepper, tobasco, cilantro, hawian rolls
Course: Dinner
Other Recipes That You Might Like