Baked Flounder with Carrots, Spinach and an Asian Vinaigrette
A Fresh Fish Dish With an Asian Twist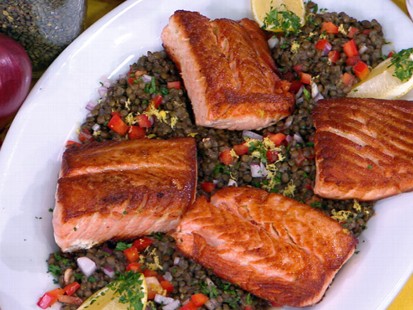 The chef shakes up ho-hum meals with beneficial twists.
From the kitchen of Emeril Lagasse
|
This fish dish is a snap and just a delicious. Try it tonight with your family.
Ingredients
6 tablespoons extra-virgin olive oil
2 tablespoons freshly squeezed lemon juice
2 tablespoons soy sauce
2 teaspoons dark Asian sesame oil
2 teaspoons honey
1 teaspoon minced fresh ginger
1 teaspoon minced garlic
2 1/4 teaspoons salt
1 1/4 teaspoons freshly ground white pepper
8 ounces prewashed baby spinach, stemmed, and roughly chopped
2 carrots, sliced into ribbons with a vegetable peeler
1/3 cup mixed fresh parsley, cilantro, and tarragon leaves
Four 6-ounce skinless flounder fillets
Cooking Directions
Preheat the oven to 375°F.
In a medium bowl, combine the extra-virgin olive oil, lemon juice, soy sauce, sesame oil, honey, ginger, and garlic, and whisk well to combine. Season with 1 /4 teaspoon of the salt and 1 /4 teaspoon of the white pepper.
In a separate bowl, combine the spinach, carrots, and herbs, and drizzle with 6 tablespoons of the vinaigrette; toss well to combine. Arrange the salad in a glass or ceramic casserole or baking dish. Season the flounder on both sides with the remaining 2 teaspoons salt and 1 teaspoon pepper. Lay the fish over the salad, and drizzle 1 tablespoon of the vinaigrette over each of the fillets. Place in the oven and bake until the vegetables are wilted and the fish flakes easily when pierced with a fork, about 12 minutes.
Remove from the oven and serve the fish with some of the wilted vegetables.
Recipe courtesy "Emeril 20-40-60: Fresh Food Fast" by Emeril Lagasse, Harper Studio Publishers, 2009, copyright MSLO, Inc., all rights reserved
This recipe was styled by chef Karen Pickus for Good Morning America.
Recipe Summary
Main Ingredients: olive oil, lemon juice, soy sauce, sesame oil, honey, ginger, garlic, spinach, carrots, parslet, filet
Course: Dinner, Main Course
Other Recipes That You Might Like