White Bean Chili
Warm Up With This Slow-Cooked Dish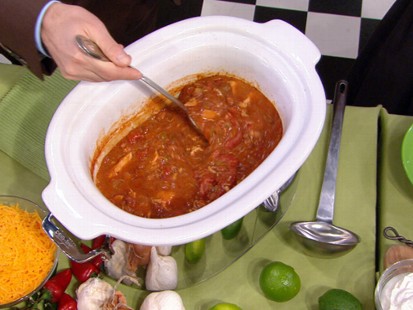 The queen of the slow-cooker cooks three versions of her mouthwatering chili.
From the kitchen of Stephanie O'Dea
|
Stephanie O'Dean knows how to make dinner easy. Here's what she though about this recipe:
Oh, I LOVED this chili! And I loved it even more that Adam and the kids loved it, and that the baby doesn't seem to mind when I eat beans. I made an afternoon snack of nachos with some of the leftovers. Divine. This is such a fun twist on traditional chili, and I absolutely adored every last drop. There is definitely a bit of heat in the sauce—if your family doesn't like much heat, start with 1 teaspoon chili powder. You can always add more later. Like many soups, stews, and chilis, the leftovers are even better than the original!
Ingredients
1 pound dry Great Northern white beans
1 pound smoked Italian sausage, sliced (I used turkey)
2 celery stalks, sliced
4 garlic cloves, minced
1/2 teaspoon dried fennel
1/4 teaspoon dried sage
1 (14.5-ounce) can diced tomatoes
2 cups water
Cooking Directions
Use a 6-quart slow cooker. Sort through the beans, and soak overnight. If you don't have time to soak them overnight, boil rapidly on the stovetop for 10 minutes, then remove from the heat and cover. Let the beans sit in hot water for 1 hour before draining and using in the slow cooker.
Put the beans into the cooker, and add the sausage and celery. Add the garlic, fennel, and sage. Pour in the tomatoes and water, and stir to combine. Cover and cook on low for 8 to 10 hours, high for 4 to 5 hours, or until the beans have reached the desired tenderness.
Click here to check out the Stephanie's new cookbook More Make It Fast, Cook It Slow: 200 Brand-New, Budget-Friendly, Slow-Cooker Recipes
This recipe was styled by chef Karen Pickus for Good Morning America.
Other Recipes That You Might Like