Baked Fruit with Frozen Yogurt
Sweeten You Day With This Delicious Dessert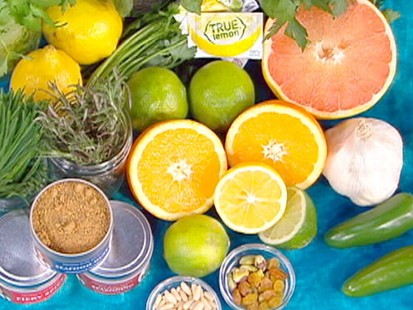 Tips and tricks for healthier cooking in the new year.
From the kitchen of Diane Henderiks
|
Ingredients
For the Filling:
3C thinly sliced apples
1 mango - scored & separated
½C sliced strawberries
½C blueberries
½C diced pineapple (fresh or frozen)
2t fresh lemon juice
For the Topping:
3T all-purpose flour
1T brown sugar
½C quick cooking oats
½t ground cinnamon
¼t ground nutmeg
¼t ground ginger
2T butter
2CLowfat vanilla frozen yogurt
3T maple syrup
Cooking Directions
Preheat oven to 375º.
Combine fruit (you can use any of your favorite fruits) & lemon juice together. Spoon half of mixture onto 8X8X2" metal or foil pan.
In separate bowl combine brown sugar, flour, oats, cinnamon, ginger & nutmeg. Stir well. Cut in butter with pastry blender until mixture resembles coarse crumbs. Sprinkle half of mixture evenly over fruit mixture. Add remaining fruit and sprinkle other half of mixture on top. Cover pan tightly with foil. Bake about 30 minutes. Remove cover & bake additional 10 minutes.
Spoon approx. 1C fruit into small bowl. Top with ¼C yogurt and drizzle 1t syrup on top. Enjoy!
This recipe was styled by chef Karen Pickus for Good Morning America.
Other Recipes That You Might Like