Spicy Chicken Wings with Alabama White Barbecue Sauce
Serve These at Your Next Party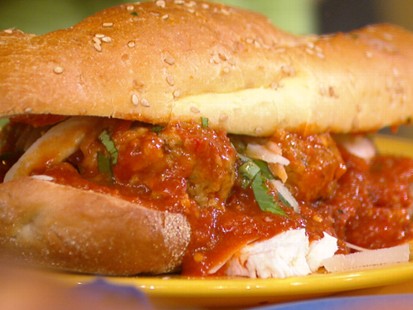 The world-famous chef puts a gourmet twist on typical game-day grub.
From the kitchen of Mario Batali
|
Talladega Superspeeway is in the heart of Alabama, where this unique sauce is popular. Talladega is the track that helped bring about the use if restrictor plates. Speeds are down now, but the long backstretch allows the cars to run wide open, and that's almost as fast as these wings disappear.
Ingredients
For the barbeque sauce
1 cup mayonnaise
1/2 cup white vinegar
2 tablespoons sugar
1 tablespoon freshly squeezed lemon juice (1 lemon)
1 teaspoon salt
1 teaspoon black pepper
For the rub
2 tablespoons chili powder
2 tablespoons paprika
1 tablespoon garlic powder
1 teaspoon salt
1/2 teaspoon cayenne
1/2 teaspoon ground cumin
1/4 teaspoon ground cloves
3 tablespoon extra-virgin olive oil
24 chicken wings
Cooking Directions
In a medium bowl, combine all the ingredients for the barbeque sauce. Cover until ready to use or keep cold in the refrigerator or ice-filled cooler for up to 3 days.
In a small bowl, combine the dry ingredients. Rub the chicken wings with the olive oil, then liberally with the spice mixture. Transfer to a resealable freezer bag and keep cold in a refrigerator or ice-filled cooler until ready to use or for up to 4 hours.
Grill the wings over medium-high heat until the meat is no longer pink near the bone, about 18 minutes. You'll have to turn the wings a few times toward the end of the cooking to keep them from charring.
Serve the wings with a generous helping of Alabama White Barbeque Sauce.
Top the meatballs with parsley leaves, freshly grated pecorino and a drizzle of extra-virgin olive oil.
This recipe was styled by chef Karen Pickus for Good Morning America.
Recipe Summary
Main Ingredients: mayonnaise, sugar, white vinegar, chili powder, paprika, garlic, salt cayenne, cumin, garlic cloves, chicken wings
Course: Dinner, Party Platter
Other Recipes That You Might Like