Muffin Frittatas
Delicious Muffin-Style Eggs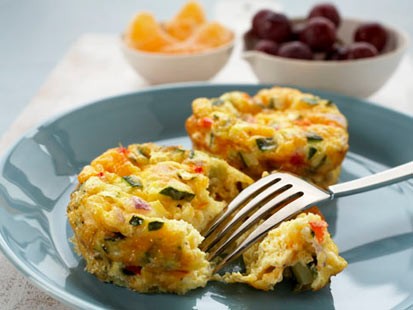 From the kitchen of American Egg Board
|
Treat your family with this delicious and adorable recipe.
Ingredients
6 eggs
1/2 cup milk
1/4 tsp. salt
1/8 tsp. pepper
1cup shredded Cheddar cheese (4 oz.)
3/4 cup chopped zucchini
1/4 cup chopped red bell pepper
2 Tbsp. chopped red onion
Cooking Directions
Heat oven to 350°F. Beat eggs, milk, salt and pepper in medium bowl until blended. Add cheese, zucchini, bell pepper and onion; mix well. Spoon evenly into 12 greased muffin cups, about 1/4 cup each.
Bake in 350°F oven until just set, 20 to 22 minutes. Cool on rack 5 minutes. Remove from cups; serve warm.
Nutrition information per serving:164 calories; 11 g total fat; 6 g saturated fat; 1 g polyunsaturated fat; 4 g monounsaturated fat; 207 mg cholesterol; 296 mg sodium; 3 g carbohydrate; 0 g dietary fiber; 12 g protein; 722.9 IU Vitamin A; 55.5 IU Vitamin D; 35.1 mcg folate; 192.1 mg calcium; 1.1 mg iron; 134.0 mg choline.
This recipe is an excellent source of protein, choline, and a good source of vitamin A, vitamin D, and calcium.
Lighter Option – Recipe can be made with reduced-fat cheese, if desired.
Additional Notes:
• Quick breakfast solution: Bake muffin frittatas the night before and refrigerate. Quickly re-warm in the microwave in the morning.
Other Recipes That You Might Like