Twin Chefs: Carrot Soup With Pea Salsa
Peas and Carrots -- With a Twist!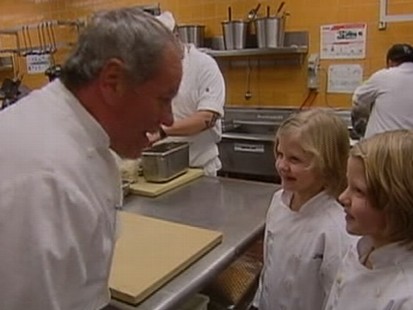 Cameron Mathison on the healthy options two young girls cook for their family.
From the kitchen of Twin Chefs
|
This soup makes you rethink peas and carrots, it is so creamy and sweet and the pea salsa gives it a fresh twist.
Ingredients
Carrot Soup
2 cups thinly sliced carrots (approximately 6 or 7 carrots)
2 cups carrot juice, fresh or purchased (takes approximately 15 carrots for 2 cups of juice)
1 pinch curry powder
½ teaspoon salt
¾ cup water
½ cup milk
Pea Salsa
¼ cup peas chopped fresh or frozen, drained on a paper towel
¼ cup almonds, chopped small
5 mint leaves, chopped small
1 teaspoon lemon juice
½ teaspoon olive oil
Pinch of salt
Cooking Directions
Always have your grown up helper with you for this recipe. Juice your carrots first if you are using fresh juice and set aside.
To prepare the soup slice the carrots and then put the 2 cups carrot juice into a small sauce pan and begin to heat slowly on medium low. Add your carrots, pinch of curry and salt. Cook on medium to low. Keep a low simmer for about 1 hour, until carrots are soft. Do not try to cook on high; all of your liquid will boil off.
While your soup is simmering chop your peas, almonds, and mint leaves, gently mix the three in a small bowl. Then add the lemon juice, olive oil and pinch of salt. Set aside.
When the carrots are soft, turn off the heat and remove from the stove. Let the carrot mixture cool until just warm. Blend the carrot mixture in the blender until smooth. Pour back into the small sauce pan and stir in the milk. This soup can be served hot or cold. If you want to serve it hot, reheat it on low.
To serve the soup place small servings into a small bowl or cup, ladle about 3 to 4 ounces into each serving dish. Place a tablespoon or so of the pea salsa onto the middle of each bowl of soup and serve.
This recipe was styled by chef Karen Pickus for "Good Morning America."
Other Recipes That You Might Like