Healthier Oatmeal Raisin Cookies
Enjoy this tasty fiber filled treat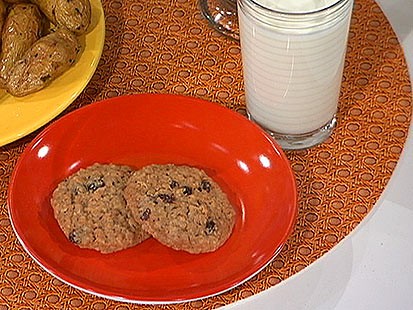 From the kitchen of Wendy Bazilian
|
A special treat that can be baked and frozen. Treats can be nutrient dense, too—this one has high fiber whole wheat flour and oats, antioxidant rich cinnamon and raisins, some applesauce to nutritiously and moistly reduce the fat. . . and yes, some traditional, all natural 'cookie' ingredients too in very modest amounts (eggs, butter and sugar). There's portion control built right into the "practice" of eating a delicious homemade cookie—1 cookie ~75 calories. Serve with low fat or fat-free milk and you've got a nutrient-rich, satisfying treat.
Ingredients
1 1/4 cups whole wheat flour
1 cup all-purpose unbleached, unbromated wheat flour
1 teaspoon baking soda
1 teaspoon baking powder
1/4 cup butter, softened
1/2 cup brown sugar
1/2 cup applesauce
2 tablespoons honey
2 large eggs, beaten
1 teaspoon ground cinnamon
1 teaspoon pure vanilla extract
2/3 cup raisins (dried tart cherries work great, too!)
1/3 cup regular oats
Cooking Directions
Preheat the oven to 375 degrees. In a large bowl, combine flours, baking soda and baking powder. In a separate bowl, cream butter and brown sugar. Add applesauce, honey, eggs, cinnamon and vanilla. Cream together until well blended. Add flour mixture slowly to butter mixture. When combined, stir in raisins and oats.
With a teaspoon, drop the cookies (1"-diameter balls) on a baking sheet and slightly spread them out. Bake for 12–15 minutes or until lightly browned. Remove the cookies from the oven and cool on a baking sheet for 5 minutes before transferring them to a wire rack. Cool the cookies completely before storing them in airtight containers.
Other Recipes That You Might Like