Eva Longoria's Aunt Elsa's Pineapple Upside-Down Cake
Sweeten Your Day With This Treat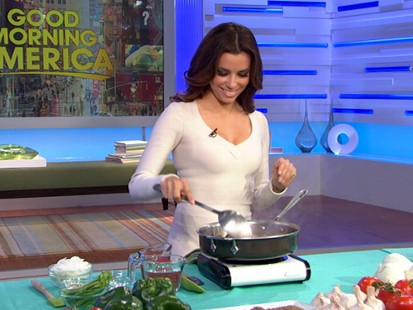 "Eva's Kitchen" is a new cookbook released by the "Desperate Housewives" star.
From the kitchen of Eva Longoria
|
Buttery, not overly sweet, yellow cake is topped with rich, caramelized pineapple in this classic treat that never lets me down. All of the ingredients, including the pineapple, are staples in my pantry, so I can make it any time I want a cheerful and delicious dessert without having to shop especially for it. Using cake flour results in a more tender cake that is best eaten the day it is made. All-purpose flour gives a sturdier cake, almost like a coffee cake.
Ingredients
2/3 cup unsalted butter,
at room temperature
½ cup packed light brown sugar
7 slices pineapple
7 drained maraschino cherries, or as needed (optional)
1 1/2 cups cake flour or all-purpose flour
1 cup sugar
2 teaspoons baking powder
1/2 teaspoon table salt
2/3 cup milk
1 teaspoon vanilla
1 large egg
Cooking Directions
Preheat the oven to 350°F. In a flameproof 9-inch cake pan, melt ¹/³ cup of the butter over low heat. Sprinkle the brown sugar evenly over the butter and cook, stirring, until the sugar and butter are blended and there are no pools of melted batter, 2 to 4 minutes.
Arrange the pineapple on top of the caramel. Decorate with cherries if desired, placing them in the center of each pineapple slice. Set the pan aside.
In the work bowl of an electric stand mixer fitted with the paddle attachment, or in a large mixing bowl with a handheld mixer, place the flour, sugar, baking powder, and salt and mix on low speed until well combined. Add the remaining ¹/³ cup of butter along with the milk and vanilla. Beat on medium speed for 2 minutes. Scrape down the sides of the bowl. Add the egg and beat on medium speed for 2 minutes. Pour the batter over the pineapple.
Bake until the cake is golden brown and a toothpick inserted in the center comes out clean, 40 to 50 minutes. Remove the pan from the oven and carefully tilt it in all directions to release the cake from the sides of the pan. Let cool in the pan for about 3 minutes. Turn the pan over onto a serving plate and let stand for 2 to 3 minutes. Carefully lift the pan off the cake. Use a spatula to remove any fruit that is stuck to the pan and place it on the cake. Serve warm or at room temperature.
This recipe was styled by chef Karen Pickus for Good Morning America.
Click here to check out Eva's cookbook.
Recipe Summary
Main Ingredients: butter, light brown sugar, pineapple, sherries, cake flour, sugar, baking powder, salt, milk, vanilla, egg
Course: Dessert
More Info: Kids Friendly
Other Recipes That You Might Like