Emeril's Lightened Up French Toast
Your Breakfast Favorite, Without All the Calories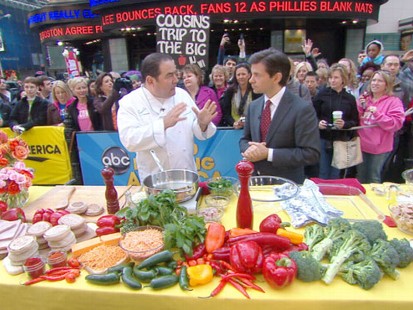 Emeril Lagasse serves up delicious breakfast dishes for deserving moms.
From the kitchen of Emeril Lagasse
|
Do you love French toast, but worry about all the calories? Don't worry. Emeril has cooked up a healthier version that's just as delicious.
Ingredients
1 cup evaporated skim milk
4 large egg whites
2 tablespoons honey, warmed in microwave for 20 seconds
1 teaspoon finely grated orange zest
¼ teaspoon ground nutmeg
1/4 teaspoon salt
8 (1/2-inch) slices day-old whole wheat bread
4 tablespoons butter
Fresh mixed berries, for serving, optional
Maple syrup for serving, optional
Cooking Directions
In medium size mixing bowl, whisk together the milk, egg whites, honey, orange zest, nutmeg and salt. You may do this the night before. When ready to cook, pour custard mixture into a pie pan and set aside.
Preheat oven to 350 degrees F. Dip bread into mixture, allow to soak for 15 minutes on each side, and then remove to a cooling rack that is sitting in a sheet pan, and allow to sit for 1 to 2 minutes.
Over medium-low heat, melt 1 tablespoon butter in a 12-inch nonstick skillet. Place 2 to 4 slices of bread at a time into the pan and cook until golden brown, approximately 2 to 3 minutes per side. Remove from pan and place on a baking sheet and place in the oven for 5 minutes. Repeat with the remaining slices. Serve immediately with fresh fruit and maple syrup.
This recipe was styled by chef Karen Pickus for Good Morning America.
Recipe courtesy Emeril Lagasse, copyright MSLO, Inc., all rights reserved
Other Recipes That You Might Like