Crepe Suzette
Fresh and Fruity Light Dessert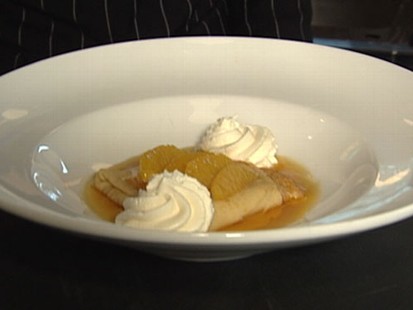 Executive Chef Robert Wiedmaier sweetens the griddle.
From the kitchen of Robert Wiedmaier
|
Ingredients
Yields: One Serving
Crêpe
Ingredients
10 ounces milk
3 each eggs
1 ounce vegetable oil
.5 ounces sugar
1 teaspoon salt
4 ounces bread flour
1 each orange, zest
1.5 tablespoons unsalted butter, softened and separated
Suzette Sauce
Ingredients
1 ounce Grand Marnier
3 ounces unsalted butter
3 ounces light brown sugar
4 each large oranges, juice
1 cup vanilla ice cream, optional garnish
Cooking Directions
Procedure
Blend the milk, eggs, oil, sugar, salt, and orange zest together in a large bowl. Add the flour and whisk until evenly blended. Strain the batter through a fine mesh sieve to remove any clumps and return to bowl. Let the batter rest for at least 30 minutes.
In a small non-stick pan, melt 1 tablespoon of the butter over medium-high heat. Pour appoximately one ounce of the batter into the pan. Quickly, swirl the batter around the pan to ensure that it is evenly distributed and coats the entire bottom of the pan. Let the batter cook until it has puffed slightly and has turned a golden color, 30 seconds to 1 minute, flip, and then cook another 10-20 seconds. Repeat until you have used the entire batter. Once cooked, set aside.
Suzette Sauce
Procedure
Heat the butter and sugar together in a heavy bottom pan on medium-high heat until thick and syrupy. Add the Grand Mariner and orange juice, and heat thoroughly.
Assembly
Take each finished crêpe and fold into a triangle shape by folding each in half and half again. Place two to three folded crepes into a frying pan on high heat with the remaining .5 tablespoon of butter. Heat, then pour 4-5 ounces of the Suzette sauce onto the crêpes. Transfer the warm crepes and sauce into a serving dish and serve with vanilla ice cream.
Recipe Summary
Main Ingredients: butter, sugar, grand marnier, orange juice, eggs, flour, cream, fruit, whipped topping
Course: Appetizer/Starter, Casserole, Lunch, Dinner
More Info: Kids Friendly
Other Recipes That You Might Like