Michael Symon's Chocolate Chip Cookie Dough
Iron Chef Michael Symon prepares his chocolate chip cookie dough.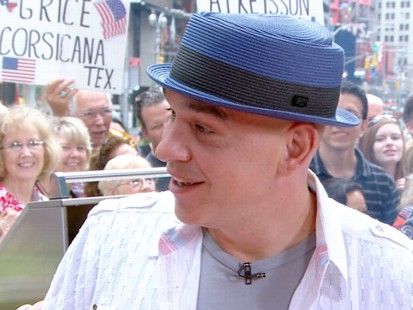 Michael Symon joins 'GMA' to make his award winning "Fat Doug Burger."
From the kitchen of Michael Symon
|
Everyone loves a good chocolate chip cookie. Give chef Michael Symon's straightfoward recipe a try.
Ingredients
6 T unsalted butter (¾ lb)
1 c and 2 T granulated sugar (263 g)
1 c and 2 T light brown sugar (263 g)
3 large eggs
3 t vanilla extract (12 g)
2 c and 2 T ap flour (494 g)
4 t baking powder (18 g)
1 t salt (6 g)
2 c chocolate chips (487 g)
Cooking Directions
In a mixer fitted with the paddle attachment, cream the butter with the two sugars until light and fluffy.
Add eggs one at a time, beating well after each addition
Add vanilla extract
In a separate bowl, combine the flour, baking powder, and salt.
With the mixer on low, add flour mixture to the butter mixture.
Fold in chocolate chips.
Bake at 350 for 10 minutes.
This recipe was styled by chef Karen Pickus for Good Morning America.
Recipe courtesy Michael Symon, all rights reserved
Other Recipes That You Might Like