Michael Symon's Vanilla Ice Cream
Give Michael Symon's ice cream a try this summer.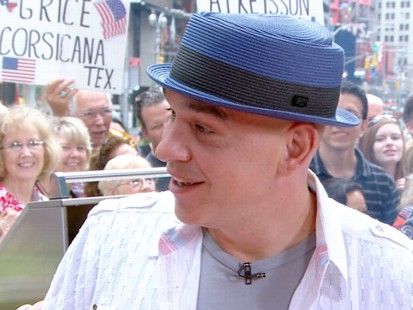 Michael Symon joins 'GMA' to make his award winning "Fat Doug Burger."
From the kitchen of Michael Symon
|
Looking for something sweet to eat this summer? Give this ice cream a try.
Ingredients
1 c 2% milk (225 g)
1 T non fat dry milk powder (15 g)
1 whole vanilla bean, split lengthwise, and scraped
1 t glucose powder (10 g)
3 T granulated sugar (45 g)
5 t egg yolks (25 g)
1 T granulated sugar (12.5 g)
½ t ice cream stabilizer (2 g)
2/3 c heavy cream (150 g)
1 ½ t trimoline (7.5 g)
2 t vodka
Cooking Directions
In a large saucepot, combine the first 5 ingredients and bring to a simmer (abt 185 degrees)until sugar is dissolved.
Temper the next three ingredients into the first mixture, stirring constantly, until it reaches 183 degrees.
Chill this mixture until cold, then blend the last three ingredients in with a buerre mixer.
Spin the now completed vanilla base in an ice cream machine according to the manufacturer's instructions.
This recipe was styled by chef Karen Pickus for Good Morning America.
Recipe courtesy Michael Symon, all rights reserved
Other Recipes That You Might Like