Sunny Anderson's Creamy Potato and Prosciutto Salad
The Perfect Summer Side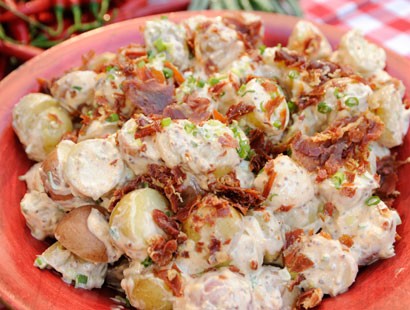 From the kitchen of Sunny Anderson
|
Sunny Anderson's creamy potato and prosciutto salad is the perfect side for your fourth of July meal. Whip up a batch for your celebration.
Ingredients
1 tablespoon olive oil
4 ounces prosciutto
2 pounds baby tricolor or red bliss potatoes, quartered into bite-size pieces
For the Dressing:
2 scallions, finely chopped
1 teaspoon sugar
1 cup mayonnaise
1/2 teaspoon sweet paprika
1/4 cup stone-ground mustard
2 teaspoons apple cider vinegar
Kosher salt and freshly ground black pepper
Cooking Directions
Heat the oven to 400 degrees F.
Brush a baking sheet with olive oil and place the prosciutto in one layer on the sheet. Bake in the oven until the fat is rendered and prosciutto is crisp, 12 to 14 minutes. Remove the strips to a wire rack and allow to cool completely. Once cooled, hand-crush the prosciutto and set aside in a bowl.
Add the potatoes to a large pot of cold water along with a pinch of salt. Bring to a boil and lower to a simmer, cooking until the potatoes are just fork tender, about 15 minutes. Keep in mind the potatoes will continue to cook when you remove them from the water and you don't want a mushy potato salad. Remove the potatoes from the heat and drain in a colander. Place the colander over the now empty pot to allow the moisture to evaporate from the potatoes.
To make the dressing: In a large bowl, whisk the scallions, sugar, mayonnaise, sweet paprika, ground mustard, and apple cider vinegar together. Taste and then season with salt and a few grinds of pepper.
Add the potatoes and toss. Refrigerate for at least 1 hour. Remove and sprinkle the crispy prosciutto over the top.
This recipe was styled by chef Karen Pickus for "Good Morning America."
Recipe courtesy Sunny Anderson, 2010
Other Recipes That You Might Like