Michael Symon's Grilled Hanger Steak with Steak Sauce
Fire Up the Grill for Dinner Tonight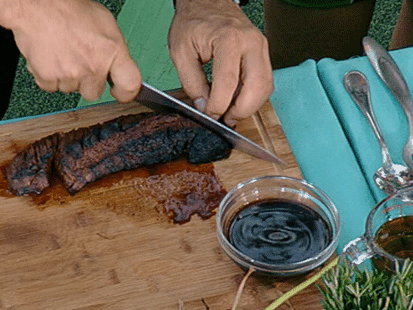 Co-host of "The Chew" prepares classic summer dishes with a new spin.
From the kitchen of Michael Symon
|
Chef Michael Symon knows his meat. So give this simply delicious a try this weekend.
Ingredients
For the "Lola" steak sauce:
2 cups balsamic
2 tablespoons red wine vinegar
½ cup raisins
1 small yellow onion, diced (1/2 cup)
3 garlic cloves
2 tablespoons dark brown sugar
½ teaspoon whole cloves
½ teaspoon cumin seeds
½ tablespoon celery salt
1 sprig of fresh rosemary
1 or 2 salt-packed anchovy fillets, rinsed and chopped (1 tablespoon)
For the steaks:
1 tablespoon kosher salt
1 teaspoon sugar
1 teaspoon coriander seeds, crushed
1 teaspoon ancho chile powder
4 pounds hanger steak, trimmed of fat and connective tissue
½ cup extra-virgin olive oil
1 cup fresh flat-leaf parsley leaves
Lola steak sauce (recipe below)
Cooking Directions
For the "Lola" steak sauce:
Combine the balsamic and red wine vinegars, raisins, onion, garlic, brown sugar, cloves, cumin, celery salt, rosemary, and anchovies in a large nonreactive saucepan and cook over medium-low heat until the mixture has reduced by one-third. Pour through a fine-mesh strainer twice or until you have a nice smooth sauce; discard the solids. Let cool, then cover, and refrigerate in a jar for up to 1 month.
For the steak:
Combine the salt, sugar, coriander, and the chile powder in a small bowl and coat the steaks with the mixture. Refrigerate overnight or for up to 2 days.
Remove the steaks from the refrigerator 30 minutes before you want to cook them.
Build a hot fire in your grill. Brush the steaks with half the olive oil and grill them for 3 minutes per side for medium rare. Remove from the grill and let rest, uncovered for 10 minutes.
While the steaks are resting, in a medium bowl toss the parsley, and remaining olive oil together.
Slice the steaks against the grain, divide among six plates, and top with the salad and a drizzle of steak sauce.
This recipe was styled by chef Karen Pickus for Good Morning America.
Recipe courtesy of Michael Symon
Other Recipes That You Might Like