Marc Murphy's Blueberry Crumble
Marc Murphy's Blueberry Crumble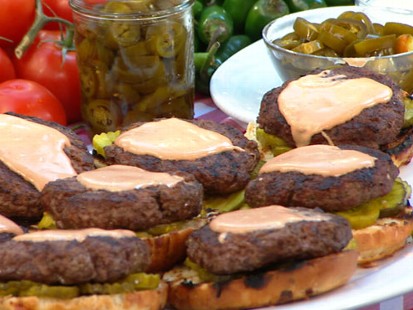 Chef, owner of Landmark and Ditch Plains restaurants grills in Times Square.
From the kitchen of Marc Murphy
|
When you're cooking with Marc Murphy, always save room for dessert. Fresh ingredients make all the difference in his Blueberry Crumble, served in individual servings so you don't even have to share!
Ingredients
3 1/2 pints Blueberries
1 cup Granulated sugar
1 strip Lemon rind
Juice of 1 lemon
1 T Cornstarch
1/2 cup Water
1 1/4 cup All-purpose flour
1/3 cup Chopped walnuts
1/4 cup Dark brown sugar
1/4 tsp Cinnamon
1/4 lb Unsalted butter, melted
Cooking Directions
Combine 3 pints of the blueberries with 3/4 cup sugar, the lemon rind, cornstarch, lemon juice and water in a medium sauce pan. Cook over medium heat until thickened, about 20-30 minutes. Allow to cool, remove the rind, and stir in the remaining 1/2 pint blueberries.
Preheat oven to 375 degrees F.
In a large bowl, combine the flour, walnuts, remaining 1/4 cup granulated sugar, brown sugar, cinnamon and melted butter.
Divide the blueberry mixture among 8, 4-ounce ramekins and top with a generous amount of crumble. Bake the mixture in the ramekins for 20 minutes, or until golden brown.
This recipe was styled by chef Karen Pickus for Good Morning America.
Recipe courtesy Marc Murphy.
Other Recipes That You Might Like