Ree Drummond's Peach-Whiskey BBQ Chicken
Try This Flavor-Packed Dish Over a Plate of Grits at Your Next Barbeque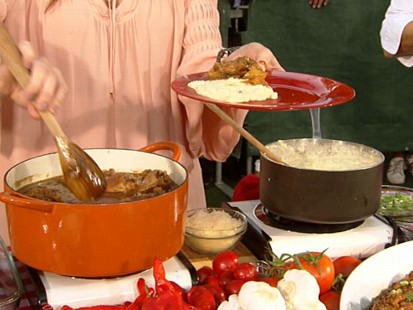 Best-selling cookbook author uses peaches, whiskey on her BBQ chicken thighs.
From the kitchen of Ree Drummond
|
Food Network host Ree Drummond's Peach-Whiskey BBQ Chicken is full of flavor, with a kick. Serve it over a big plate of grits at your next backyard barbeque or family gathering, and be prepared to have guests coming back for more!
Ingredients
12 bone-in, skin-on chicken thighs,
2 tablespoons olive oil, plus more for rubbing
2 tablespoons butter
1 whole yellow onion, diced
1 1/2 cups whiskey
12 ounces, barbecue sauce
1 jar peach preserves
4 peaches, pitted and sliced
2 tablespoons Worcestershire Sauce
4 cloves garlic, peeled
Cooked grits, for serving
3 whole green onions, sliced thin (white and green parts)
Cooking Directions
Rub chicken thighs with olive oil and season with salt and pepper. Grill over medium heat until chicken is nice and brown on both sides, but not done—about 2 to 3 minutes per side.
Preheat oven to 300 degrees F.
Heat 2 tablespoons oil and butter in a heavy pot over medium-high heat.
Add onions to pan and stir, cooking for 2 minutes. Pour whiskey into the pot, being very careful if you're using an open flame. Stir and scrape the bottom of the pan, allowing whiskey to reduce for a minute or two. Pour in barbecue sauce, peach preserves, peaches, 1/2 cup water and Worcestershire sauce. Throw in garlic cloves. Stir until combined, add chicken to the pot, skin side up. Cover and put pot in oven.
Cook until chicken is tender and almost falling off the bone, about 1 1/2 hours, then remove from oven.
Serve pieces of chicken over a big pile of grits. Sprinkle sliced green onions over the top.
Other Recipes That You Might Like