Low-Fat Fudgey Brownie Squares
Lock the Door, Lose the Weight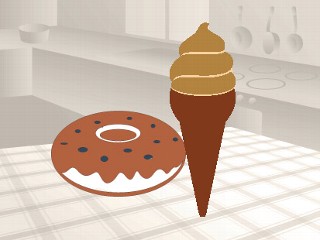 From the kitchen of Rosemary Black
|
For a low-fat, delicious dessert, try Fudgy Brownie Squares, one of the recipes featured in Good Morning America's "Lock the Door, Lose the Weight" series.
Ingredients
Nonstick vegetable oil spray
4 tablespoons butter
1/4 cup semisweet chocolate chips
1/4 cup coffee-flavored liqueur
1 1/2 teaspoons vanilla extract
1/4 teaspoon almond extract
3/4 cup all-purpose flour
3/4 teaspoon baking powder
1/4 cup unsweetened cocoa
1/4 teaspoon salt
1/4 cup plus 2 tablespoons dark brown sugar
1/4 cup Splenda
1 egg
1 tablespoon confectioner's sugar
Cooking Directions
Preheat the oven to 350 degrees. Spray an 8-inch square baking pan with nonstick vegetable oil spray.
In small glass bowl, combine the butter and chocolate chips. Heat in microwave for 2 minutes or until melted. Stir and set aside to cool. When cool, stir in the coffee-flavored liqueur, vanilla extract and almond extract.
In sifter, combine flour, baking powder, cocoa and salt.
In mixing bowl, beat together the dark brown sugar, Splenda and egg for 1 minute. Add the chocolate mixture and beat well. Add the flour mixture and beat until smooth.
Spoon and scrape the batter into the prepared pan. Bake for 20 minutes or until a wooden pick inserted into the center comes out clean. Remove from oven and cool for 15 minutes. Sift the confectioner's sugar over the top. When completely cool, cut into 16 brownies.
Calories: 99 Carbohydrate: 12 grams Protein: 1.4 grams Fat: 4.5 grams Saturated Fat: 2.5 grams Cholesterol: 21 milligrams Sodium: 92 milligrams
Recipe by Rosemary Black; adapted from The 90/10 Weight Loss Plan, © 2002.
Other Recipes That You Might Like