Low-Calorie Chocolate Chip Meringues
Lock the Door, Lose the Weight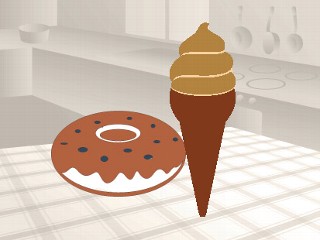 From the kitchen of Rosemary Black
|
This low-calorie dessert recipe is one of the choices for Good Morning America's "Lock the Door, Lose the Weight" series.
Ingredients
Nonstick cooking spray
3 egg whites
Pinch of salt
1/2 teaspoon cream of tartar
1/2 teaspoon vanilla extract
1/2 cup sugar
1/4 cup Splenda (no-calorie sweetener)
1/2 cup mini chocolate chips
Cooking Directions
Preheat the oven to 300 degrees F. Line 2 baking sheets with foil and spray them with nonstick cooking spray.
In a large bowl, beat the egg whites with the salt, cream of tartar and vanilla extract on high speed. When soft peaks form, add half the sugar and beat again. When stiff peaks form, add the remaining sugar and Splenda, and beat for several seconds.
Stir in the chocolate chips. Drop meringues by the teaspoon onto the baking sheets, leaving about 1 1/2 inches of space between each one.
Bake for 20 minutes, rotating the baking pans twice. Turn off the oven heat and prop open the oven door a crack. Leave the meringues to dry in the oven for another 1/2 hour. Remove the meringues from the oven and peel off the foil. Place them on a rack. Allow meringues to cool completely.
Other Recipes That You Might Like