Nigella Lawson's Bitter Orange Ice Cream
Party Pleasers for the New Year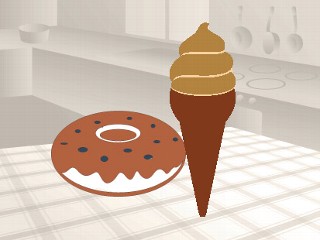 From the kitchen of Nigella Lawson
|
The holidays are not over yet, but if you are over the holiday cooking, sin-sational chef Nigella Lawson has a super-fast dessert for ushering in the New Year in a delicious way.
Ingredients
3 Seville oranges (or 1 eating orange and 2 limes)
1 cup plus 2 tablespoons confectioners' sugar
2 1/2 cups heavy cream
wafers, to serve (optional)
Cooking Directions
If using Seville oranges, grate the zest of 2 of them. Squeeze the juice of all 3 and pour into a bowl with the zest and sugar. If you're going for the sweet orange and lime option, grate the zest of the orange and one of the limes, juice them and add to the sugar as before. Stir to dissolve the sugar and add the heavy cream.
Whip everything until it holds soft peaks, and then turn into a shallow airtight container (of approximately 2 quarts) with a lid. Cover and freeze until firm (from 3 to 5 hours). Remove to ripen for 15 to 20 minutes (or 30 to 40 minutes in the refrigerator) before eating. Serve in a bowl, in cones, with wafers — however you like.
Recipe used with permission, from Nigella Bites by Nigella Lawson.
Other Recipes That You Might Like