"Gourmet" Pistachio Orange Lace Cookies
Gourmet Magazine's Favorite Holiday Cookie Recipes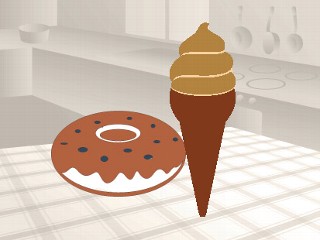 From the kitchen of Gourmet Magazine
|
It's time to fire up the oven for holiday cookies this year, and the editors of Gourmet magazine have shared their favorite recipes from spicy to nutty to chocolaty with Good Morning America's Food Editor Sara Moulton.
Here is the recipe for Pistachio Orange Lace Cookies.
Ingredients
1and 1/4 cups salted shelled pistachios (not dyed red; 5 1/2 ounces)
3/4 cup sugar
6 Tablespoons all-purpose flour
5 Tablespoons unsalted butter, melted and cooled slightly
2 Tablespoons Grand Marnier (or other orange-flavored liqueur)
1 teaspoon fresh orange zest, finely grated
2 Tablespoons fresh orange juice
parchment paper
Cooking Directions
Pulse pistachios and sugar together in a food processor until nuts are finely chopped (but not ground), then stir together with remaining ingredients in a bowl. Spread dough in a 12-inch-long strip on a large sheet of plastic wrap and, starting with a long side, roll up dough in plastic wrap (dough will be very soft). Chill dough on a baking sheet until firm but still malleable, about 1 hour.
Preheat oven to 325°F.
Roll dough into a 15-by 1-inch log, using plastic wrap as an aid. Halve log crosswise and chill halves, wrapped in plastic wrap, until firm, about 3 hours.
Cut 1 half crosswise into 1/8-inch-thick slices with a serrated knife and arrange about 2 inches apart on 2 parchment-lined large baking sheets. Flatten each cookie into a 11/2-inch round with the back of a fork or spoon, dipping fork in water and shaking off excess for each cookie.
Bake in upper and lower thirds of oven, switching position of sheets halfway through baking, until golden, 8 to 10 minutes total. Cool cookies on sheets 5 minutes, then transfer with a metal spatula to racks to cool completely. Make more cookies with remaining dough on cooled baking sheets (line sheets with clean parchment).
Dough log can be chilled up to 5 days or frozen, wrapped in foil as well as plastic wrap, 1 month. If frozen, thaw dough, just until it can be sliced. Cookies keep, layered between sheets of wax paper or parchment (cookies should not overlap), in an airtight container at room temperature 1 week.
Other Recipes That You Might Like