"Gourmet" Gingerbread Snowflakes
Gourmet Magazine's Favorite Holiday Cookie Recipes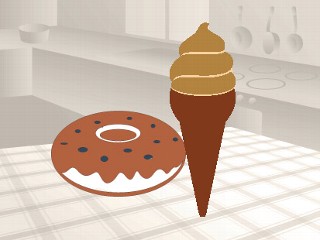 From the kitchen of Gourmet Magazine
|
It's time to fire up the oven for holiday cookies this year, and the editors of Gourmet magazine have shared their favorite recipes from spicy to nutty to chocolaty with Good Morning America's Food Editor Sara Moulton.
Here is the recipe for Gingerbread Snowflakes.
Ingredients
Cookies
2/3 cup molasses (not robust)
2/3 cup dark brown sugar, packed
1 Tablespoon ground ginger
1 1/2 teaspoons ground cinnamon
1/2 teaspoon ground allspice v
1/2 teaspoon ground cloves
2 teaspoons baking soda
2 sticks unsalted butter (1 cup), cut into tablespoon pieces
1 large egg, lightly beaten
3 3/4 to 4 cups all-purpose flour
1/2 teaspoon salt
2- to 3-inch cookie cutters (preferably snowflake-shaped)
A pastry bag fitted with 1/8 to 1/4-inch plain tip (optional)
Decorating Icing
1 box confectioner's sugar (1-lb)
4 teaspoons powdered egg whites (not reconstituted)
1/3 cup water
1 Tablespoon fresh lemon juice
1 teaspoon vanilla
Food coloring (optional)
Cooking Directions
Cookies
Bring molasses, brown sugar, and spices to a boil in a 4- to 5-quart heavy saucepan over moderate heat, stirring occasionally, and remove from heat. Stir in baking soda (mixture will foam up), then stir in butter 3 pieces at a time, letting each addition melt before adding next, until all butter is melted. Add egg and stir until combined, then stir in 3 3/4cups flour and salt.
Preheat oven to 325°F.
Transfer dough to a lightly floured surface and knead, dusting with as much of remaining 1/4 cup flour as needed to prevent sticking, until soft and easy to handle, 30 seconds to 1 minute. Halve dough, then wrap 1 half in plastic wrap and keep at room temperature.
Roll out remaining dough into a 14-inch round (1/8 inch thick) on a lightly floured surface. Cut out as many cookies as possible with cutters and carefully transfer with offset spatula to 2 buttered large baking sheets, arranging them about 1 inch apart.
Bake cookies in upper and lower thirds of oven, switching position of sheets halfway through baking, until edges are slightly darker, 10 to 12 minutes total (watch carefully toward end of baking; cookies can burn easily). Transfer cookies to racks to cool completely. Make more cookies with remaining dough and scraps (reroll once).
Put icing in pastry bag (if using) and pipe or spread decoratively onto cookies.
Cooks' note: Cookies keep in an airtight container at room temperature 3 weeks.
Decorating Icing
Note: Egg whites act as a stabilizer in this icing, allowing it to harden for decorating the cookies. Because the whites are not cooked, we prefer powdered egg whites, such as Just Whites, which are available in the baking section of most supermarkets.
Beat together all ingredients except food coloring in a large bowl with an electric mixer at moderate speed until just combined, about 1 minute. Increase speed to high and beat icing, scraping down side of bowl occasionally, until it holds stiff peaks, about 3 minutes in a standing mixer or 4 to 5 minutes with a handheld. Beat in food coloring (if using). If you plan to spread (rather than pipe) icing on cookies, stir in more water, 1 teaspoon at a time, to thin to desired consistency.
Other Recipes That You Might Like