Roland Mesnier's Pumpkin Pie
A Holiday Favorite By the White House Pastry Chef.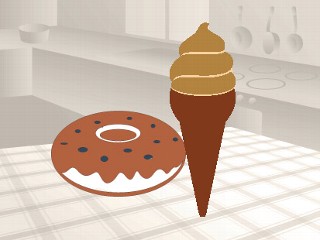 From the kitchen of White House pastry chef Roland Mesnier
|
White House pastry chef Roland Mesnier lends GMA his recipe for homemade pumpkin pie.
Ingredients
Pie Filling
3 eggs, whole
2 egg yolks
1 cup sugar
1/2 Tsp. salt
1 1/2 tsp. ground cinnamon
3/4 tsp. ground ginger
1/4 tsp. ground cloves
18 ounces milk
2 2/3 cups plain canned pumpkin puree
1 12-inch pie shell (baked), recipe below
1/2 pint heavy cream
Candied ginger, finely cut
Pie Crust (enough for 2 12-inch pie shells)
3 1/2 cups cake flour
1/2 cup water
4 Tbsp. sugar
1/2 tsp. salt
1 1/2 cups shortening, plus some for greasing parchment
Cooking Directions
Pie
Heat oven to 375 degrees.
Beat whole eggs and yolks lightly.
Cream sugar and eggs, and beat in salt, cinnamon, ginger, cloves and milk until thoroughly blended. Stir in the pumpkin. Pour into pre-baked pie shell.
Bake about 1 hour, until a toothpick inserted in center comes out clean. Do not jiggle. Cool pie on wire rack, then chill.
To serve, whip cream and pipe around edge of pie; decorate with candied ginger.
Pie Crust (pre-baked)
Heat oven to 375 degrees. Place ingredients in mixing bowl. Then using paddle attachment of an electric mixer, mix until well blended, about 3 minutes.
Divide dough in two; shape each into a ball. (Dough balls can be wrapped and frozen.)
Roll out on floured surface into a round to fit a 12-inch glass pie plate. Trim crust at edge of plate. (It will be covered with whipped cream.)
Prick crust with fork on bottom and sides. Crumple a piece of parchment paper; open up and grease one side of the paper. Place greased side down in crust; fill bottom and a little up the sides with dried beans.
Bake 15 minutes; remove from oven, and carefully remove paper and beans. If crust tears, patch it by pressing together with your fingers. Bake another 10 minutes, until crust is brown, and remove. It is not necessary to wait for crust to cool before filling
Other Recipes That You Might Like