Christmas Cherry Trifle
President Bush and First Lady Laura's Favorite Christmas Dessert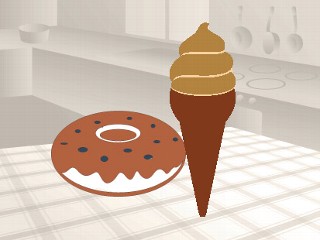 From the kitchen of White House pastry chef Roland Mesnier
|
This is one of President Bush and the first lady's favorite Christmas recipes. Emeril Lagasse visited the White House and baked with White House pastry chef Roland Mesnier.
Ingredients
1 yellow cake (layered with raspberry preserves), pre-made
1/2 cup Pastry Cream
1/8 cup Port, and extra Port to sprinkle on cake
1 cup Whipped Cream (sweetened to taste), plus extra for top of cake
3 cans Dark Bing Cherries (15 oz. Cans in heavy syrup), drained
Fresh cherries (optional)
Cooking Directions
You will need to first make a yellow cake layered with raspberry preserves. Cut the cake into 1 inch cubes.
In a separate bowl, you will fold in pastry cream, whipped cream and port together.
Put one layer of cake cubes down in a bowl and sprinkle with 1/8 cup port.
Then put on a layer of cherries.
Then a layer of the cream mixture
Repeat layering.
Top with thin layer of sweetened whipped cream.
Put rosettes around the rim.
Garnish with fresh cherries and other Christmas decorations.
Other Recipes That You Might Like