Rachael Ray's Peanut Butter & Jelly French Toast
Two Childhood Favorites in One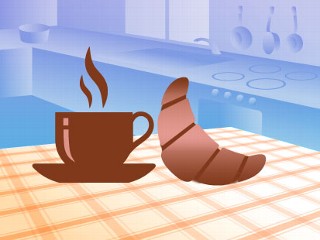 From the kitchen of Rachael Ray
|
Rachael Ray is the queen of making quick, easy food — and now the cook has come up with some delicious family meals in her new book, aptly titled "Yum-O: The Family Cookbook."
In some of her recipes she takes a twist on traditional foods, like boosting French toast with some peanut butter and jelly. Check out some of Ray's tasty eats by trying out the recipe below.
Ingredients
8 slices whole-grain bread
4 tablespoons peanut butter, creamy or chunky
4 tablespoons all­fruit spread, flavor of your choice
6 eggs
1/2 cup milk
2 teaspoons pure vanilla extract
4 tablespoons butter (1/2 stick)
1/2 cup pure maple syrup, warm
Cooking Directions
Spread 4 slices of the bread with peanut butter and the other 4 with jelly to make four PB&J sammies.
Beat the eggs, milk, and vanilla together in a bowl.
Place a large nonstick skillet over medium heat and add 2 tablespoons of the butter.
When the butter is almost melted, dunk two of the sammies into the egg batter and let the excess drip off. Place in the pan.
Fry the sammies until golden brown on both sides, 3 to 4 minutes per side. Repeat with the remaining 2 sammies.
Cut the French toast sammies into 4 sticks apiece and serve with warm maple syrup.
Other Recipes That You Might Like