Nigella Lawson's Peppers with Feta and Almonds
Retire Your Salad One Night and Try This Simple Dish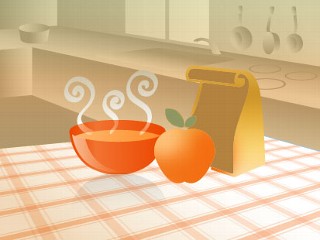 From the kitchen of Nigella Lawson
|
Sometimes it can be tough to come up with a creative way to showcase your veggies at dinnertime. Nigella Lawson provides a fast and simple way to incorporate veggies, updating the classic salad that is usually first on the dinner table. Check out her recipe for roasted peppers.
Ingredients
8 peppers (red or yellow, or a mixture of both)
4 ounces of feta
Couple of squeezes of lemon juice
1 tablespoon extra-virgin olive oil
1/3 cup almonds ( blanched or flaked)
2 tablespoon flat-leaf parsley, freshly chopped
Cooking Directions
Preheat the broiler as hot as you can get it.
Sit the peppers on a rack below. When the skin turns black and blistery, turn them; you want to char them on every side. (You can do this on a stove just by holding them with a long fork over the burner, but it can get tiresome to say the least.)
When peppers are black and charred, remove them to a large bowl and cover immediately with plastic wrap. Leave for 10-20 minutes.
Uncover and (one by one) peel and seed the peppers. Don't get worried if the odd bit of skin (or seed) remains.
Cut or tear into wide chunks/strips and arrange on a large plate.
Crumble over the feta and then squeeze over lemon juice and drizzle with oil.
Scatter over the almonds and sprinkle on the parsley and that is it.
Other Recipes That You Might Like