Cranberry Pistachio Biscotti
A Twice Baked Italian Cookie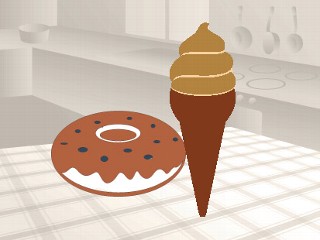 From the kitchen of Sara Moulton
|
Good Morning America food editor Sara Moulton shares her recipes for some tasty desserts. Bake up a batch of these scrumptious cookies!
Ingredients
1 1/2 cups dried cranberries (1/4 pound)
2 1/2 cups unbleached all-purpose flour
1 cup of sugar
1/2 teaspoon of baking soda
1/2 teaspoon of baking powder
1/2 teaspoon salt
3 large eggs
1 teaspoon vanilla
1 cup natural pistachios, salted and shelled
1 large egg, lightly beatened with 1 teaspoon of water to make egg wash
Cooking Directions
Soak cranberries in boiling hot water to cover in a small bowl until softened, about 10 minutes. Drain and then pat dry with paper towels.
Preheat oven to 325 degrees F. Butter and flour a large baking sheet, knocking off excess flour.
Mix together flour, sugar, baking soda and powder in a large bowl with an electric mixer at moderate speed until combined well. Add eggs and vanilla and beat just until a dough forms. Add cranberries and pistachios and mix at a low speed.
Turn out dough onto a well-floured surface and knead several times. Halve the dough and form each half into a a 13 - by 2-inch slightly flattened log on a baking sheet, using floured hands, and spacing logs about 3 inches apart. Brush logs with egg wash.
Bake in the middle of the oven until golden brown - 25 to 30 minutes. Cool logs on baking sheet on a rack for 10 minutes. Transfer onto cutting board and cut diagonally into 1/2 inch thick slices with a serrated knife. Arrange slices, cut side down, in one layer on a baking sheet (don't worry if slices touch each other). Bake in the middle of the oven, turning once, for 20 to 25 minutes total.
Recipe courtesy of Gourment magazine © 2001.
Other Recipes That You Might Like