Emeril's Fifield's Blueberry Cobbler
Emeril Lagasse's Blueberry Crumb Cobbler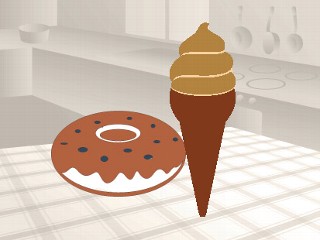 From the kitchen of Emeril Lagasse
|
Emeril Lagasse's Blueberry Crumb Cobbler is delicious and special. It's named after Emeril's good friend Jim Fifield who always comes into Emeril's restaurant.
Ingredients
1 tsp unsalted butter (to grease pan)
Filling
6 pints fresh blueberries
6 tablespoons Grand Marnier liqueur
1/2 cup granulated sugar
1/2 cup all-purpose flour
Topping
1/2 pound unsalted butter
2 cups light-brown sugar
1 teaspoon ground cinnamon
1 cup all-purpose flour
1 cup rolled oats (not instant)
Cooking Directions
Preheat oven to 350 degrees F.
In a large mixing bowl, combine the filling ingredients: blueberries, Grand Marnier, granulated sugar and 1/2 cup flour. Toss to mix and let sit for 15 minutes.
Grease a 9-by-13 inch glass ovenproof baking dish with 1 teaspoon of the butter. Spread the berry mixture evenly in the baking dish.
In a medium-size mixing bowl, combine the topping ingredients. Cream the butter with the brown sugar until smooth. Add the cinnamon, the remaining cup of flour and the oats. Mix well.
Spread the oat mixture evenly over the berry mixture. Bake for 30 minutes until lightly golden. Remove from the oven and let cool slightly.
Emeril Lagasse © 2000
Other Recipes That You Might Like