Emeril's Muffuletta Salad
Emeril Lagasse's Muffuletta Salad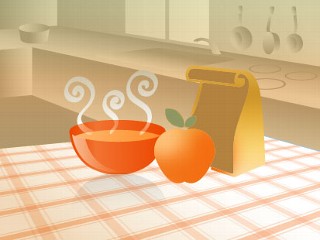 From the kitchen of Emeril Lagasse
|
It usually comes in a sandwich — but Emeril Lagasse takes this classic taste to a bowl.
Try his recipe for muffuletta salad. It may be a salad — but it's big enough to serve as a meal.
Ingredients
6 cups water
2 1/2 teaspoons of salt
1 pound small shell pasta
1/2 pound salami, cut into 1/4 inch cubes
1 pound provolone cheese, cut into 1/4 inch cubes
1/2 pound mortadella (ham), cut into 1/4 inch cubes
1/2 pound boiled ham, cut into 1/4 inch cubes
20 pitted jumbo black olives, sliced
20 large green olives with pimiento (no pits), sliced
1/4 cup yellow onion, minced
1/2 cup celery, chopped
1 cup fresh parsley leaves
1/4 cup fresh thyme leaves
1 cup extra virgin olive oil
6 tbsp. apple cider vinegar
1 tsp. Worcestershire sauce
1/2 tsp. hot sauce
1 tbsp garlic, minced
1 tsp. Fresh ground black pepper
Cooking Directions
Combine water and 1 teaspoon of salt in a large saucepan and bring to boil over high heat. Add pasta and cook uncovered. Stir occasionally, until tender, 6-8 minutes.
Remove from heat and drain. Rinse with cold water and drain again. In a larger mixing boil combine pasta, salami, provolone, mortadella ham, boiled ham, olives, onion, celery, parsley and thyme.
In a small bowl, whisk together vinegar, Worcestershire, hot sauce, garlic, pepper and 1/2 teaspoon of the salt. Then, gradually whisk in the olive oil. Pour over salad mixture and add remaining teaspoon of salt. Toss to mix well. Store in an airtight container in the refrigerator for at least eight hours before serving.
Emeril Lagasse, c. 2000
Other Recipes That You Might Like