Chili con Queso with Homemade Corn Tortilla Chips
Emeril Lagasse Kicks Winter Up a Notch With Hot and Zesty Recipes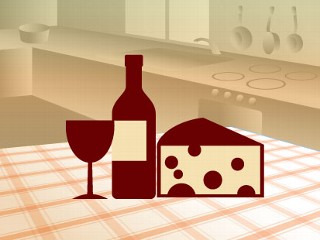 From the kitchen of Emeril Lagasse
|
Want to try something zesty and different? Try Emeril Lagasse's Chili con Queso with Homemade Corn Tortilla Chips.
Ingredients
Dip
1/2 pound fresh Poblano Chilies (or Anaheim chilies)
2 tablespoons vegetable oil
1 cup white onions, chopped
1/4 teaspoon cayenne
2 tablespoons all-purpose flour
1 large tomato, peeled, seeded and diced
1 cup heavy cream
1 3/4 cups cheddar cheese, grated
1 cup grated Pepper Jack cheese
Homemade Corn Tortilla Chips
12 corn tortillas, cut into quarters
Vegetable oil, if deep-frying
1 teaspoon salt
Cooking Directions
Roast the peppers by placing them on an open gas flame, turning them frequently with tongs until all sides are charred black, about 7 to 10 minutes. (Alternately, the peppers can be roasted under a broiler, or on top of a gas or charcoal grill.)
Place the blackened peppers in a plastic or paper bag, and let rest until cool enough to handle, about 15 minutes. Peel the peppers, split in half lengthwise, and discard the seeds and the stems. Roughly chop and set aside.
In a large pot, heat the oil over medium heat. Add the onions and cayenne and stir until very soft, about 6 minutes. Add the flour and stir for another 2 minutes. Add the tomatoes and chopped chilies, and cook for 1 more minute. Slowly begin to add the cream and stir until it's thick, 3 to 4 minutes. Add the cheeses and cook, stirring, until melted and well incorporated.
Remove from the heat and adjust the seasoning to taste. Serve immediately with tortilla chips.
To fry the chips, add enough oil to come halfway up the sides of a large heavy pot or electric deep fryer and heat over high heat to 360??F.
In batches, without crowding, deep-fry the tortillas until golden brown, turning once, 2 to 3 minutes. Using a slotted spoon, transfer to paper towels to drain. Sprinkle lightly with salt to taste. Serve immediately.
Other Recipes That You Might Like