Home
>
GMA
>
Recipes Home
>
Wolfgang Puck's Late Summer Fruit Cobbler with Peaches and Blackberries
Wolfgang Puck's Late Summer Fruit Cobbler with Peaches and Blackberries
End a Sunny Day with This Sweet Pie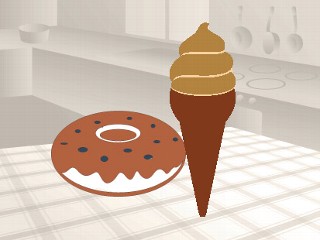 From the kitchen of Wolfgang Puck
|
Summer fruit is delicious, and Chef Wolfgang Puck has found a way to make it even more scrumptious.
He appeared on "Good Morning America" with delectable dessert recipes for your summer fruit. Try this sweet mixed fruit cobbler!
Ingredients
Shortcake
1 1/3 cups (330 ml) cake flour
2 tablespoons granulated sugar
2 teaspoons baking powder
2 teaspoons salt
5 tablespoons chilled unsalted butter, cut into 3 pieces
1/2 cup (125 ml) heavy cream, plus extra for brushing
Cobbler Filling
1 pound freestone peaches, ripe (or substitute nectarines, or plums)
1 1/2 pints fresh blackberries (750 ml, or substitute raspberries, or blueberries)
2 tablespoons light brown sugar
1 tablespoon cornstarch
1 tablespoon lemon juice
1/2 tablespoon peach brandy (Kirsch, or Grand Marnier)
1/8 teaspoon ground cinnamon
Streusel Topping
2 tablespoons all-purpose flour
1 tablespoon light brown sugar
1 tablespoon unsalted butter, chilled
1 tablespoon almonds, sliced
1 tablespoon quick-cooking rolled oats
pinch ground cinnamon, small amount
pinch ground nutmeg, small amount
pinch ground cardamom, small amount
1 tablespoon heavy cream, for glazing shortcakes
1 tablespoon granulated sugar, for glazing shortcakes
Good-quality vanilla ice cream, (or powdered sugar) for serving
Cooking Directions
In a food processor, pulse together the flour, sugar, baking powder, and salt to make the shortcake.
Add the butter and pulse just until the mixture forms small gravel-like pieces.
With the motor running, pour the cream through the feed tube, stopping just before the dough forms a ball.
Turn the dough out onto a lightly floured surface and gently knead just until it forms a smooth ball, being careful not to overwork it.
On a lightly floured board, roll out the dough to a 1/2-inch (12-mm) thickness.
Using a 2 1/2-inch (6-cm) cookie or biscuit cutter, cut out 6 circles, gathering and re-rolling the scraps if necessary.
Place them on a baking sheet, cover loosely with plastic wrap, and refrigerate until ready to assemble the cobbler.
Now prepare the peaches for the cobbler filling:
Bring a pot of water to a boil and fill a large mixing bowl with ice and water.
With a slotted spoon or wire skimmer, carefully lower the peaches into the boiling water and boil until their skins wrinkle, about 1 minute.
Lift them out with the slotted spoon or skimmer and transfer to the ice water. Then, use a small, sharp knife to strip away the skin.
Cut the fruit in half, pull out the pits, cut each half into 4 or 5 slices, and put in a large mixing bowl.
Add the berries, brown sugar, cornstarch, lemon juice, peach brandy, and cinnamon. Fold gently until thoroughly mixed.
Spoon the fruit mixture into 6 lightly buttered individual deep ovenproof soup bowls.
Preheat the oven to 375°F (190°C).
To prepare the streusel topping, in a medium bowl, combine the flour and sugar. Using a fork, cut in the butter until it resembles coarse meal.
Stir in the almonds, oats, cinnamon, nutmeg, and cardamom.
Sprinkle the prepared streusel mixture over the fruit filling.
Distribute the prepared shortcake circles on top.
Lightly brush the shortcakes with heavy cream and sprinkle them with sugar.
Bake in the preheated oven until the filling is bubbling and the shortcakes are golden brown, 45 to 50 minutes.
Remove the cobbler from the oven.
Let it sit for 10 minutes before serving with vanilla ice cream or lightly dusted with powdered sugar.
Recipe courtesy of Wolfgang Puck.
Other Recipes That You Might Like