Zuppa Inglese - Italian Trifle
Mario Batali's At-Home Comfort Food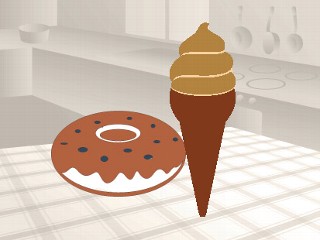 From the kitchen of Mario Batali
|
Culinary superstar Mario Batali still likes to keep things simple in his own kitchen, using ingredients people can actually pronounce.
In "Molto Italiano: 327 Simple Italian Recipes to Cook at Home" (Ecco), Batali presents delicious and easy-to-make dishes that are sure to please everyone.
He served up some of his favorite recipes from the collection for "Good Morning America" – chicken with "cooked wine," baked pasta with ricotta and ham, and Italian trifle.
Ingredients
3 1/4 cups whole milk
Grated zest of 1 lemon
1 vanilla bean, split
7 large egg yolks
1 cup sugar
1/2 cup all-purpose flour
Five tablespoons unsweetened cocoa powder
1 3/4 ounces unsweetened chocolate
24 ladyfingers
1/4 cup Limoncello (or other sweet citrus liqueur)
Cooking Directions
In a large heavy-bottomed saucepan, combine the milk and lemon zest. Scrape the seeds from the vanilla bean, and add the seeds and bean to the pan. Bring to a very brisk simmer over medium-high heat; do not allow to boil.
Meanwhile, in a large bowl, combine the egg yolks, flour and sugar and whisk until the mixture is pale yellow and forms a ribbon when the whisk is lifted from the bowl. Gradually pour 1/2 of the hot milk into the egg mixture, whisking constantly. Return the mixture back to the saucepan and cook over high heat, stirring constantly with a wooden spoon, until the pastry cream coats the back of the spoon. Pour half the cream into a stainless steel bowl and set in an ice bath to cool. Stir the cocoa and chocolate into the remaining pastry cream, making sure that the chocolate is completely melted. Then pour the chocolate cream into another bowl and set over an ice bath to cool. Whisk the creams occasionally as they cool.
Split each ladyfinger in half. Sprinkle the cut sides with the liqueur. Place a layer of the soaked ladyfingers in a large glass serving bowl. Top with a layer of the vanilla pastry cream, another layer of ladyfingers, and a layer of the chocolate cream; repeating the layering until all ingredients are used. Cover and refrigerate for 1 hour before serving.
Recipe copyright 2005, Mario Batali from his cookbook, "Molto Italiano : 327 Simple Italian Recipes to Cook at Home"
Other Recipes That You Might Like