Mom Cantey's Fruit Cobbler
Kay Latham's Recipe is a Finalist in 'GMA' Recipe Contest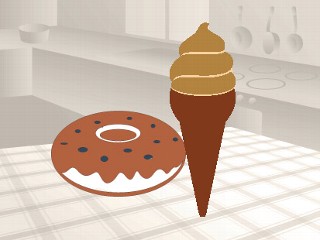 From the kitchen of Kay Latham
|
Kay Latham's recipe is a finalist in "Emeril's Comfort for the Coast" contest.
Growing up, my maternal grandmother Vera Cantey made this wonderful cobbler with whatever fruit was in season. She never wrote the recipe down. One day, I was in the kitchen while she was making peach cobbler and I wrote down all of her steps. Years after her death, I made the cobbler for a family gathering. They didn't realize the recipe had been saved.
Ingredients
4 cups fruit (whatever you like or is in season)
1/2 cup sugar for the filling
2 Tablespoons cornstarch
1 stick butter, softened
1 cup sugar
1 egg, slightly beaten
1 cup self-rising flour
Cooking Directions
First make the filling. Prepare fruit as appropriate. Put cleaned and cut fruit into an 8" x 8" baking dish.
Combine sugar and cornstarch and sprinkle over fruit. Pus aside.
Make the crust. Mix butter and sugar. Stir in egg; gradually add flour and mix well. The mixture will have a consistency between that of heavy cake batter and light biscuit dough.
Drop spoonfuls on top of fruit. The topping will spread out as it cooks.
Bake at 325°F until light brown and the topping doesn't shake -- usually 45-50 minutes. Test the same as you would a cake. Straw should come out clean.
When doubled this recipe works well in a 9x13 baking dish. It will take 1 1/2 to 2 hours to bake. Test at 1 hour and 45 minutes.
Recipe copyright © 2005, Kay Latham
Other Recipes That You Might Like