Spago House Dressing
Wolfgang Puck's Salad Dressing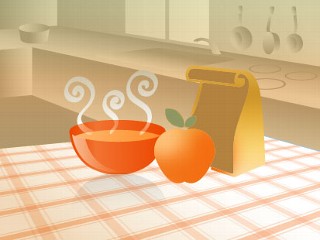 From the kitchen of Wolfgang Puck
|
You too can eat like a star by following Wolfgang Puck's recipe for Spago's House Dressing.
Ingredients
3 tablespoons balsamic vinegar
1 tablespoon sherry wine vinegar (or red wine vinegar)
1 tablespoon Dijon mustard
1 small shallot, minced
1/2 teaspoon fresh thyme leaves, minced
1/2 cup extra virgin olive oil
1/3 cup walnut oil
1/4 teaspoon Kosher salt
1/8 teaspoon freshly ground white pepper
Cooking Directions
In a medium bowl, whisk together the balsamic and sherry or red wine vinegars, the Dijon mustard, minced shallot and minced thyme. Slowly whisk in the oils and when emulsified, season to taste with salt and pepper. Refrigerate in a covered container. It will keep for three weeks to four weeks. When ready to use, whisk again.
Other Recipes That You Might Like